View Product Reviews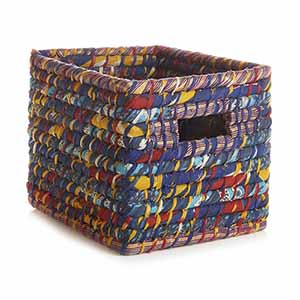 Though I don't know what the basket's name means, I like it very much!
Jul 17, 2023 | Posted By Lynnette Wirth from Salem, OR United States
The basket is well made and sturdy for holding nice items. The colors are stunningly beautiful.
Baskets
Jul 5, 2023 | Posted By Han from Clifton Park , NY United States
LOVE THEM AND WILL ORDER MORE along with your quick delivery!
Nice
Mar 17, 2023 | Posted By Jacqueline A Baruch from Wyalusng, PA United States
I like this basket very much. Itis colorful and sturdy.
Square Basket
Jun 7, 2022 | Posted By Becky from Randolph, VT United States
Beautful colors, great textures, so interesting to look at. Great size.
lovely baskets!
Nov 15, 2021 | Posted By Margaret Morehouse from Takoma Park, MD United States
brightly colored, nicely constructed. both pretty and practical
Attractive and sturdy basket
Oct 18, 2021 | Posted By Katherine Heffernan from Missoula, MT United States
Very attractive and sturdy basket. Useful for organizing or containing clutter.
perfect for our upper laundry room shelf
Mar 26, 2021 | Posted By Patrice Clark from BELLINGHAM, WA United States
I bought two of these baskets and love that they are varying colors. Nicely made. Very functional. Store hats and gloves, etc. in them: one for me and one for my hubby. Thank you.
children basket
Nov 7, 2020 | Posted By Dawn S Donato from Lincoln City, OR United States
the perfect size and sturdy
Strong and well-made
Nov 16, 2019 | Posted By Karen Wood from Pittsburgh, PA United States
This is a sturdy, beautiful, well-made basket. It's also recycled, and ethically sourced. I couldn't ask for more!
I want more
Sep 3, 2019 | Posted By Vicki from Plainwell, MI United States
I just love this basket - bought it for a present but want to keep. Perfect size.
small chindi baskets
Jul 14, 2019 | Posted By Barb Potts from Cardiff by the Sea, CA United States
I bought four baskets and they hold all my vitamins, soaps, and other bathroom items. Now my shelf looks very pretty and organized. They are made well and the colors are bright and cheery.
teal chindi basket
Aug 4, 2018 | Posted By beth from townshend, VT United States
chindi makes this a beautiful storage option. bright and colorful addition to my decor. thanks again serrv!