View Product Reviews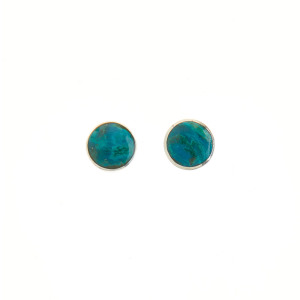 earrings
Jun 4, 2021 | Posted By Marilyn Lekkerkerk from Twin Falls, ID United States
I thought these earrings would have more color variations and be little bigger, but they are still nice earrings.
Beautiful Products
Dec 2, 2020 | Posted By JOANN RICCOBALDI-COZZANI from FLUSHING, NY United States
The earrings from Peru are nicely made and pretty. They are silver post earrings and I think the posts are somewhat delicate; so care should be taken when handling them to put on. Overall I am very pleased with my purchase.
Beautiful non-traditional post earrings
Oct 24, 2020 | Posted By C Vititoe from Moreland, GA United States
The posts are bent so you get the comfort of french wires (no posts sticking you in the neck) with the look of posts! Very comfortable and beautiful coloring!
So Pleased!
Jun 3, 2020 | Posted By Leo from Louisville, KY United States
I am so very happy with these earrings! The color is bold and rich. The stones have a lovely variation in color and sit in a clean, classic setting. I work a job in which I can only wear studs. These earrings accomplish that pop of color and add just a touch of boldness to the ear. Size is perfect! Highly recommend.
Turquoise earings
Apr 18, 2020 | Posted By Suellen Brahs from Phoenix, AZ United States
Love these. And they are just the right size
Gorgeous Peruvian Earrings
Apr 8, 2019 | Posted By Marcie from Gulf Shores, AL United States
These beautiful earrings are stunning and the perfect size. They are as beautiful in person as they are in the photo. I love them!
gorgeous earrings
May 3, 2018 | Posted By Mary from Martinsville, VA United States
They look nice in the picture, but the real earrings are just beautiful! I was thrilled when I opened the box and have been wearing them a lot
Pretty color
Apr 17, 2018 | Posted By Mozelle from San Diego, CA United States
Pretty color, well made, but disappointed they're not as variegated as shown.