View Product Reviews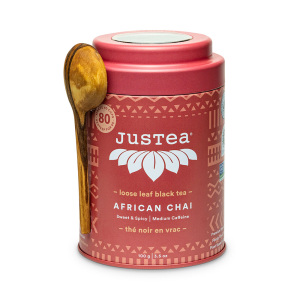 Really nice flavor, highly recommend
Dec 26, 2020 | Posted By Jane Heinrich from SEATTLE, WA United States
Delicious
Sep 26, 2020 | Posted By Laura Weick from Warrensburg, NY United States
Beautiful packaging, delicious taste
Great Flavor!
Jul 13, 2020 | Posted By Kelly from Indianapolis, IN United States
Excellent flavor, great package!
Smells so good!
May 8, 2020 | Posted By Jahzara Sushaunna from Southfield, MI United States
Can't wait to drink this tea. It smells so good in the container and the spoon is very lovely. I know I won't be disappointed. I ordered the purple jasmine as well and it is divine.
Yummy tea
Oct 20, 2019 | Posted By Marilyn Coleman from YAKIMA, WA United States
This tea is just right not too much spice. The little spoon is a great extra!