View Product Reviews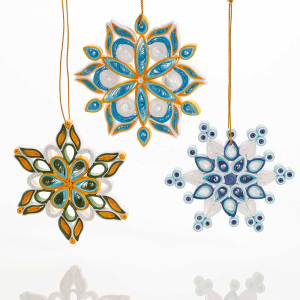 Quilled Snowflakes
Oct 5, 2022 | Posted By Tara Hill from Ayer, MA United States
So delicate and pretty! Expertly made. Also ordered the quilled wreath.
Amazing
Dec 20, 2021 | Posted By Mrs. Audrey Joy from PITTSBORO, NC United States
These ornaments are so beautiful and intricate. I love them, and won't just have them out for Christmas. I'll hang them in a window.
Beautiful
Nov 14, 2021 | Posted By Kirby Bachman from Depauw, IN United States
Oh my gosh! These are beautiful! The picture does not capture their true intricate beauty.
Intricate and lovely
Nov 3, 2021 | Posted By Rebecca Bartlett from Ann Arbor, MI United States
I'll be giving these away as Christmas gifts, but I may need to order some for myself, they are so lovely!
Quilled Snowflake Ornaments
Dec 23, 2020 | Posted By Judith L Gretz from CHICAGO, IL United States
Just gorgeous. Love them.
Quilled snowflake
Nov 26, 2019 | Posted By Janet Miller from North Chesterfield , VA United States
I love your products and the fact that they are hand made and unique, however, the blue and white snowflake was coming apart when it arrived. This is the first time I've had any trouble and have been ordering from you for a few years so you still get a great rating.
Lovely snowflakes
Nov 7, 2019 | Posted By Liz Nevitt from Pickett, WI United States
Beautiful ornaments at a great price.
Precision artistry
Sep 24, 2019 | Posted By Colleen Crowley from Reno, NV United States
Beautiful and precisely made snowflakes that can withstand a tumble from the tree by overeager children.
These should not be just for Christmas.
Nov 7, 2018 | Posted By Pamela from Kingston, NH United States
These are so pretty, I have them hanging in my window