View Product Reviews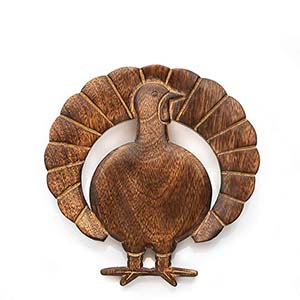 Handsome piece
Dec 9, 2022 | Posted By Lisa Lagueras from New Windsor, NY United States
I bought this for myself to add to my Thanksgiving table decor. It received many compliments from my guests and many people picked it up to examine it.
Turkey Trivet is Terrific
Nov 11, 2020 | Posted By JUDITH SHOOTER from DANVERS, MA United States
I love the turkey trivet and can't wait to put it on my Thanksgiving table. It is beautifully carved and would make a wonderful holiay decoration as well as a functional trivet. Very pleased with it.
Turkey Trivet
Oct 7, 2020 | Posted By Allison Cowgill from Fort Collins, CO United States
Lovely item I got as a gift for a sister who collects turkeys. Very happy with this purchase. Great price.
More Beautiful In Person
Nov 19, 2019 | Posted By Sarah from St. Louis, MO United States
When I was ordering something else I decided to add on this Turkey Trivet as a gift to my mother-in-law who is hosting Thanksgiving. I'm waiting until Thanksgiving to give it to her, so I don't know anything about the use of it yet, but it's stunning! The wood is more beautiful in person than the photo is able to show. I think it's pretty enough to even just hang on the wall as a decoration if you wanted. Can't wait to gift it!
Excellent product!
Oct 9, 2019 | Posted By DONNA from Brooklyn, NY United States
Beautiful carving, staining and texture!