View Product Reviews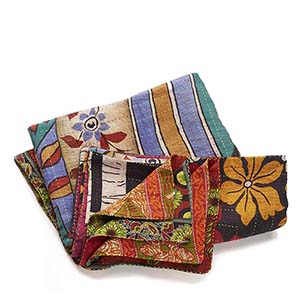 A Cool Cover!
May 25, 2022 | Posted By Rebecca Swanson from Mariposa, CA United States
We use these beautiful, light-weight covers as summer blankets during the intense California heat. They are so soft and are just enough "cover" for comfortable sleeping. I believe this is our third purchase of them.
Love this blanket!
Jan 3, 2022 | Posted By Hallie from Lake Placid, FL United States
this blanket is beautiful! i love that each one is unique since no two are the same. mine has beautiful pinks and yellows!
Pretty
Nov 1, 2020 | Posted By Teri Searcy from Redwood City, CA United States
Love this!! Light yet nice and warm. It makes me smile whenever I go in the room, it's so pretty
Beautiful!
Oct 5, 2020 | Posted By Kim Bott from OTTAWA LAKE, MI United States
I really like this a an oversized throw. The 3 layers make it more comfy than the smaller throws. Very pretty
Kantha Bed Cover
Jun 7, 2019 | Posted By Kelli Savercool from Spring Valley, CA United States
Excellent! We love it, matches other bed covers we purchased. Gives house a global vibe.