View Product Reviews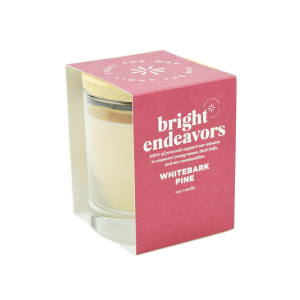 Delicious Candles
Dec 19, 2021 | Posted By Judith Waite from Bronxville, NY United States
These candles have a wonderful smell, enough but not too much, and afterward the glass is easily cleaned. We now have a nice collection of beautiful glasses!
Great scent
Mar 12, 2019 | Posted By Rhett Paulson from Anchorage, AK United States
This is the best smelling candle I have ever had. Several guests have complimented the light clean scent. I would highly recommend this candle
Beautiful winter scent
Dec 20, 2018 | Posted By Mollie from Bronxville, NY United States
I bought this candle as a gift for myself, to set the mood while wrapping presents and writing Christmas cards. It did the job beautifully, with its lovely, natural piney scent. I'm not normally a fan of scented candles - I find them overpowering - but this one is not too strong. I'll be buying more to give as gifts to others, and enjoying mine well after we take down our Christmas tree!
package damaged
Dec 18, 2018 | Posted By Cindy Neelands from Tulare, CA United States
Unfortunately, the box arrived damaged, so I would not be able to give the candle in the box which makes wrapping tricky. The candle is undamaged, but the glass is smeared with wax and will definitely need some cleanup if I decide to use it as a gift. I would not order this again.
Thank you for letting us know. We have shared the packing issue with our warehouse team and will contact you directly about the product. It sounds like it is not the usual level of quality.
Great Candle!
Dec 4, 2018 | Posted By Carolyn from Latham, NY United States
I bought a few of the candles for myself and for gifts. The aroma of the Whitebark Pine is very nice, soft and pleasing. Plus the fact they are soy makes them even cleaner!
Wonderful candles!
Nov 18, 2018 | Posted By Juliet S from Arlington Heights, IL United States
These fantastic candles have a lovely, light pine scent perfect for the holidays, esp if you don't have a real tree! Definitely not overpowering. It lasts a long time, and I like that it is a soy candle, which is so much better for the world. Also, LOVE that this provides jobs, job-training, and experience for women in transition. Beautiful, high-quality product. Great scent. Would make a fantastic gift.
Delightful Candles
Sep 16, 2018 | Posted By Holly Hughey from NORMAL, IL United States
The candles smell wonderful--and they're soy-based (no petroleum products). I'm planning to buy more to give to my co-workers at the holidays.