View Product Reviews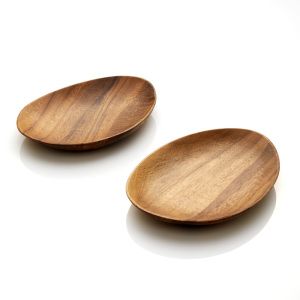 Acacia wood plates
Nov 26, 2022 | Posted By Liz Wagner from Naples, FL United States
Very nice pieces. The prefect size for versatility, whether to accompany a larger dish as side serving accompaniments that go with it, or for separate small plates on their own. Beautiful, and a shame to cover them with food really. Use one for a counter key holder, or a bathroom jewelry holder - appreciate the wood piece for itself.
This was a reorder
Jan 24, 2022 | Posted By Paula B Holt from San Francisco, CA United States
My first order was great. Lovely wood oblong plates. The reorder plates looked unfinished, and though I will keep them I am disappointed in them.
We will contact you directly to delve in and resolve this, as they should be consistent. Thank you!
Acacia small wood oblong plates- 2 sets
May 26, 2021 | Posted By Judith Kurz from Plano, TX United States
great small wooden plates...wonderful to use and feels nice to touch! goes with my other 2 purchases of wood for my table.- large bowl and long bread dish- now need 4 large oblong plates? i wish you had for sale! How about larger ones? I'd buy!
Beautiful wooden plates
Jul 16, 2020 | Posted By Vivienne from Gillett, PA United States
I purchased the acacia wood plates as a gift. They are beautiful and well made. And, the gift was much appreciated.
Beautiful, varied color acacia
Feb 3, 2020 | Posted By Judith Layman from Rohrersville, MD United States
These shallow, semi-oval shaped bowls are even prettier in person than the pretty photo. We will use our set of 4 for nuts and sliced raw vegetables and probably other things in time. With thanks to dear friends who gifted us with Serrv gift cards for Christmas.
Acacia snack plates
Mar 12, 2019 | Posted By Heidi Vorst from Portland, OR United States
Just as described. Lightweight, beautiful and practical. I use these again and again with my students and guests. Much better than disposables, and the environmentally friendly packaging was especially appreciated. Worth the investment....they'll last a lifetime with care!