View Product Reviews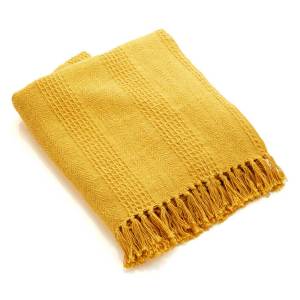 Adds color and texture to my sofa
Apr 3, 2022 | Posted By Kimberly Hicks from Silver Spring, MD United States
I have bought 2 of these throws, blue and yellow. They are lightweight, vivid, and neat on the back of my sofa or chair. Would recommend.
Rethread throw
Oct 22, 2020 | Posted By Jean Cheatheam from Lacey, WA United States
I loved the idea of this recycled thread and Fair Trade throw, but I was disappointed in the weight of it. I will use it for color now and as a throw in warmer weather.
Just right
Jul 25, 2020 | Posted By Michele Krause from Huntington, NY United States
It's a lovely light throw, not big, not super thick, but just the right thickness and weight when you need a bit more than a sheet but a blanket is too much. A goldilocks throw! :)
Mustard throw
May 22, 2020 | Posted By Selaba from Omaha, NE United States
Loved it. Color was so important -- turned out to be just what I wanted. The material is also very nice -- soft. I did have trouble taking advantage of the 2nd one 1/2 off during the web ordering, so just got one.
Perfect Throw for the Couch
Nov 25, 2019 | Posted By Mary Ann Higgs from Hayward, CA United States
I've been looking for a new throw for our couch and wanted natural fibers. When I saw this in the catalog, I was a bit leery as I couldn't feel the weight or texture, but I ordered it anyway. So glad I did. The color (mustard) complements my living decor perfectly and the weight is perfect when I'm feeling a little chilly. And, one washing with a little fabric softener made the throw soft and cuddly. If you're looking for a throw, give this one a try.