View Product Reviews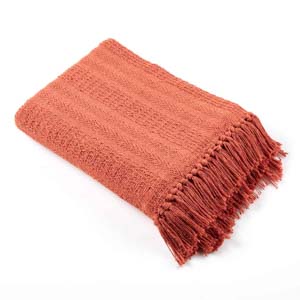 Love the Color!
Nov 21, 2021 | Posted By Donna Weaver from Chicago, IL United States
I have an antique Persian rug with brick, navy, ivory and lesser colors and have blue leather furniture sitting on it. This brick throw works beautifully with the rest of the furnishings. I'm glad I waited for it.
Wonderful size and weight
Jun 18, 2021 | Posted By Kathie McMillan from Bartlesville, OK United States
This is my second Rethread Throw in another color. I liked the first one so much I got another. Perfect for summer weather and for travel.
soft recycled throw
Oct 6, 2020 | Posted By Christi Sutphin from Ellensburg, WA United States
I love the brick color and the woven texture of this throw. It's very soft. I'm happy that it's mostly recycled cotton with some recycled polyester. That means it's not polyester fleece, like so many throws and blankets, that will release tiny particles of plastic into the environment every time you wash it.
Pleased with my Throw
Jan 10, 2020 | Posted By Pamela Gary from LOGAN, OH United States
I'm enjoying my new throw. Fine quality workmanship and I love the color. It looks nice on my comfy, overstuffed chair where I watch television and read. I recommend this product.
Gorgeous and useful
Dec 31, 2019 | Posted By Arvilla C from New Port Richey, FL United States
This is a beautiful, simple throw with a lovely pattern - perfect for our winters in Florida. The color is rich. I will eventually be purchasing at least one in each color! I love the repurposing to create this throw. I bought the red and orange ones so far.