View Product Reviews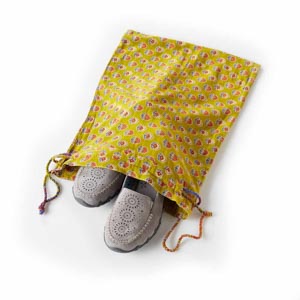 Shoe/gift bags
May 14, 2022 | Posted By Marjorie Carr from Venice, FL United States
Ordered intending to use as reusable gift bags. I knew that the patterns would vary. However, of the six that I received, three or four are extremely unattractive patterns that I would be embarrassed to give as part of a gift. One also had an unattractive patch. I think that selling recycled cloth bags in varying sizes would be a good product but some serious vetting of the materials used is needed. Ended up giving away 4 of the six bags to Goodwill. Guess they would be ok as shoe bags but certainly not as gift bags.
sari shoe bags
Mar 6, 2022 | Posted By Jane Y Barnes from DULUTH, MN United States
I love the fact that these are recycled fabric. Beautiful and soft. NIce size to handle various shoe sizes.
Everyone loved these bags!
Jan 11, 2022 | Posted By Kathleen A Keefe from Seattle, WA United States
I "wrapped" my Christmas gifts in these bags and they were such a hit. I'm coming back to buy more for myself. I think they'd make a great lunch bag and I"ll keep the other ones for future gift wrapping.. The material was beautiful.
Traveler's Dream
Jan 2, 2022 | Posted By Terry from Saint Augustine , FL United States
Great product for packing/traveling
sari shoe bags set of 3
Dec 27, 2021 | Posted By donna from polson, MT United States
Have ordered these many times, not only for myself but to send gifts inside. Everyone who has received one has remarked on the quality and beauty of these bags!
Beautiful Bags
Jul 2, 2021 | Posted By JENNIFER A EISFELLER from Newmarket, NH United States
These bags are so pretty. I ordered two sets and each bag is a different and a very beautiful fabric. They are a good size so bigger shoes like sneakers can easily fit. I sew but never got around to making them myself and am very pleased with this purchase.
These are great for travel
Feb 29, 2020 | Posted By Fiona from Seattle, WA United States
These are a wonderful solution to keeping your clothes clean while also packing shoes on your carry on. They are washable, not thick but keep the dirt contained to the bag. Awesome job while being environmentally friendly!
Very roomy
Nov 16, 2019 | Posted By LINDA from CROMWELL, CT United States
Nice bags and good sized. My shoes fit with plenty of room to spare and I am a size 10.