View Product Reviews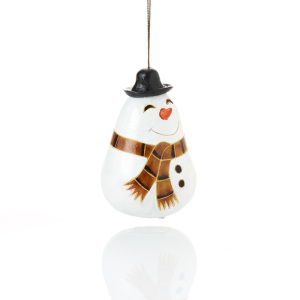 These are amazing!
Jan 20, 2023 | Posted By K. Byrd from Everett, WA United States
I bought several of these adorable Gourd snowmen ornaments for friends. Everyone loved them.
ornament
Jan 18, 2023 | Posted By Beverly Elsner from White Salmon, WA United States
Arrived on time. It was cute and I hope it's a memento of my children's trip to Peru
Love these gourds!
Jan 28, 2022 | Posted By Gail from Oxford, NY United States
Just looking at the happy snowman gourd makes you smile. They came very carefully wrapped and in perfect condition.
Funny Guy
Jan 20, 2022 | Posted By Debra Starling Watson from EDEN, NC United States
This cute snowman makes me smile.
Adorable
Jan 6, 2022 | Posted By Leslie Simpson from Denver, CO United States
It is so cute. He didn't get on the tree, but he's not going in the ornaments when they get put away, it's cute enough to leave out for the winter season
lovely
Dec 22, 2021 | Posted By Patrice G Clark from Bellingham, WA United States
This darling snow person ornament is even lovelier that it looks on the screen. It's going to be a gift to a friend. Thank you!
snowman gourd ornament
Dec 22, 2021 | Posted By Claire G Fox from Deptford, NJ United States
He is so cute! Brings a smile to my face whenever I look at him.
Extremely cute and festive
Dec 21, 2021 | Posted By Mindy Richards from Spring Hill, FL United States
The ornament brings a smile to my face, which is widened by the fact that it helps people in fraught situations earn a living wage. Super cute!
Cute as a Button
Dec 19, 2021 | Posted By Patricia Parma from San Antonio, TX United States
Everyone loved this cute snowman! He's a perfect size for the tree .... Large enough to be easily seen, yet not heavy. Wish I'd ordered more.
Love these little gourd ornaments.
Jan 26, 2021 | Posted By Carolyn from Kansas City, MO United States
These ornaments are clever and well made. Look great on the tree.
Love this !
Jan 19, 2021 | Posted By Michelle Coster from Milford, CT United States
I am so glad I made this purchase. I love all of the things I bought and look forward to next season ( and in between) to see what is available
Happy Snowman Gourd Ornament
Nov 21, 2020 | Posted By Nora Soos from BEAVER FALLS, PA United States
These are so cute, I bought them for my grandchildren .
Snowman Gourd
Nov 12, 2020 | Posted By Larcine Gantner from Hawthorne, CA United States
I collect snowmen - this is a wonderful addition to my collection
Worth the wait
Jan 23, 2020 | Posted By Sandra Baldassare from Coon Rapids, MN United States
I had to wait quite a while for this ornament to come back in stock. I wasn't sure if it would until next year. I'm so glad it did. It is adorable and quite unique. My husband and I are always looking for new and different ornaments for our tree. Thank you. It was worth the wait.