View Product Reviews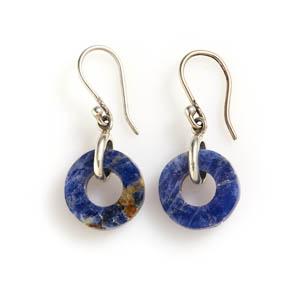 Lovely, but fragile, earrings
Nov 4, 2022 | Posted By Jeanne Davis from Dudley , MA United States
My circular lapis earrings, thigh lovely in color and shape, lasted only a few weeks. They fell onto a tile floor and one of the lapis rings fractured. If you get them, treat them gently and protect them carefully. I want to give 3 stars, but am only allowed to give 4 stars.
Lovely design
Aug 18, 2022 | Posted By Sara D Davis from TUSCALOOSA, AL United States
The person to whom I gave this as a birthday gift was very, very pleased, liking both the lapis circle and the details on the sterling.
lovely lapis earrings
Mar 6, 2021 | Posted By Alice H Arwood from Rock Hill, SC United States
These were every bit as pretty as the picture and well-made. I have already worn them several times.