View Product Reviews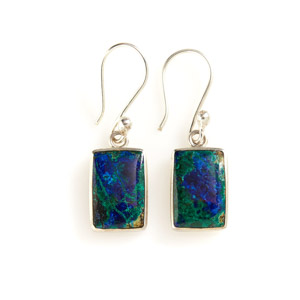 Beautiful Earrings
Sep 23, 2023 | Posted By Stacy Schumacher from Glendale, CA United States
I bought these for a friend. She loves them and they were much admired by the others celebrating her birthday. Well made and quite different from the usual one seen
Beauitful earrings
Sep 21, 2022 | Posted By Mary Ruth Peirce from THE VILLAGES, FL United States
I bought this as a gift, and am very pleased with it. It matches the deep green and blue scarf perfectly!
Peruvian Azurite earrings
Mar 24, 2021 | Posted By Kathleen E Milligan from Greeley, CO United States
I like the earrings although I had expected them to be more blue in color and are actually green. Not a major concern. Still beautiful.
Faith
Jan 6, 2021 | Posted By Faith Washington from Spokane, WA United States
Much smaller than I had anticipated.. Would have liked them to be larger. Since it took so long to receive them, I was not willing to send them back.
Earrings
Dec 19, 2020 | Posted By Janice from Pleasant Hill, CA United States
They are beautiful! Thank YOU!!!!!!
purchaser
Dec 5, 2020 | Posted By Carla Sowder from VANCOUVER, WA United States
Color intensity in pair I got much lighter than the picture. Will not go with the necklace I planned to wear them with.