View Product Reviews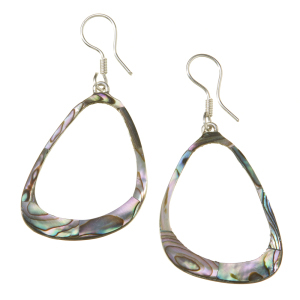 Gorgeous!
Nov 28, 2022 | Posted By Magie Atwood from Newcastle, ME United States
These earrings are lovely and even better in person. They are a Christmas gift and I know she will be thrilled. Fast delivery, too!
Very nice
Feb 6, 2022 | Posted By Sara Sluss from VENICE, CA United States
Photo doesn't do them justice. Have worn them several times since they arrived, and each time I get compliments!
Beautiful!
Dec 26, 2021 | Posted By Sarah H from Cary, NC United States
My husband gave me these and they are very comfortable (light weight) on the ear. The colors in the natural shell pop with lots of outfits, making them very versatile. The back of the earrings are solid silver, so they are well finished and just as beautiful from behind as they are from the front. Well made, too!
Recommend one change
Apr 13, 2021 | Posted By Charlotte Eigel from Centerville, OH United States
I got the Caracol earrings to match the Caracol necklace. The necklace pendant is about half silver and half shell. It would look more interesting if the earrings were also silver and shell instead of all shell.
Thank you for the suggestion!
amazing caracal
Apr 7, 2020 | Posted By Sharon Hare from Oregon City, OR United States
I think these shell earrings are beautiful. Bought them for a daughter's birthday which is a bit later so she hasn't seen them but I think she will love them.