View Product Reviews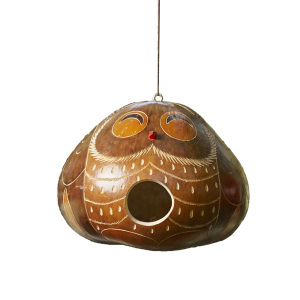 Peru made bird house
Jun 9, 2023 | Posted By Karen Foster from Spencer, WV United States
Owl birdhouse
May 1, 2023 | Posted By Debbie Mattingly from Louisville, KY United States
This is a very cute birdhouse but just like the cardinal birdhouse, it's more long than squatty. Also, the opening for the birdies is quite small. Finch size.
Adorable
Feb 8, 2023 | Posted By Gillian Husted from Tyngsboro, MA United States
I can't wait for the Spring when I can put this in my backyard. Mine is more elongated than the photo on the website but still very attractive.
Owl gourd birdhouse
Dec 28, 2022 | Posted By Deb Mcdaniel from Derby, KS United States
Beautifully crafted and painted birdhouse. My niece loved it as a Christmas gift!
Very Pleased!
Dec 22, 2022 | Posted By Darlene Strand from Iron Mountain, MI United States
I purchased four of these beautiful birdhouses to give as gifts this Christmas. Everyone loved them and I was excited to give them.
Wonderful Item
Nov 28, 2022 | Posted By Vivian H Marquez from Highland, CA United States
I just love this and have it in my china cabinet. Eventually I will place this unique birdhouse outside for the birds that come to my home but I want to enjoy looking at it before I do this. I plan to purchase more of the SERRV birdhouses. I just love handmade items.
Beautiful
Oct 8, 2020 | Posted By Cathey from Dallas, TX United States
The Owl is very well done. Small birdhouse. The quality is amazing.
So fun!
May 23, 2020 | Posted By Nancy from Lincoln, NE United States
Fits in great with my collection of owls and makes me smile when I see it hanging in the back yard!
Whoo Whoo So Cute!
May 7, 2020 | Posted By Barbara from El Cerrito, CA United States
The gourd carver who crafted this charming bird house has fine skills. I hope a bird finds its way to this new home. Please tell the carver how much I like this gourd house!