View Product Reviews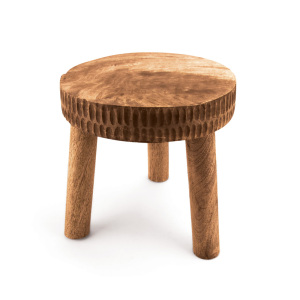 Lovely and understated
May 29, 2023 | Posted By Christina Ensign from St. Louis , MO United States
This is just a very simple but lovely piece, and is well-made and sturdy. The legs come off for easy storage but who would want to put this away?
Love it!!
Feb 22, 2023 | Posted By Charlotte Benetti from Fitchburg, WI United States
I was looking for a short stool to elevate a vase. This is perfect! Good quality, unique, style fit well with other items.
Wonderful plant stand
Feb 1, 2023 | Posted By Jane from Atlanta, GA United States
This plant stand is perfect. I gave one as a gift to my step mother, and she loved the plant stand. After seeing it I bought myself one. Perfect size and nicely made. Get one before they're out of stock. You won't regret purchasing.
Not fancy in a good way.
Sep 13, 2022 | Posted By lee wylie from Sebastopol, CA United States
A lovely simplicity! So easy to assemble. It does perfectly the job of holding a plant just the right distance from the floor. Thank you.
Made in China?
Jun 25, 2022 | Posted By Lynn Dunton from Rogue River, OR United States
I like the plant stand very much. I also thought your mission was to support people in impoverished areas to sell items and that support their communities. I was dismayed when the box the plant stand was shipped in said "Made in China". Hopefully there is a good explanation.
Hi, this is part of our sustainability initiatives to reuse packaging materials as much as possible. We do not carry any handcrafts made in China, but our warehouse needs supplies at times that could be made there. Thank you for your diligence!
The wood carvings add texture and detail
May 17, 2022 | Posted By Ann Farrer from Lexington, KY United States
This stool is perfect for building different heights for arranging plants in my sunroom. It's perfect! Wish there were more of varying heights.
Perfect Treasure!
Nov 24, 2020 | Posted By Sandra Olivier from Marco Island, FL United States
The mango wood plant stand is sturdy and attractive. I have it at my front entrance, just outside the door. It is the perfect size for the ceramic pot that holds my orchids. It lifts the pot off the concrete porch, but is not so tall that the pot will blow off in our SW Florida breezes.
Mango wood plant stand
Jul 9, 2020 | Posted By Jean from GUILFORD, CT United States
This plant stand is beautifully crafted and was exactly as described/pictured. Tried to purchase another and it was out of stock.
Beautiful and sturdy
May 13, 2020 | Posted By Sue Klapholz from Stanford, CA United States
This plant stand is beautifully made of solid wood. It was easy to assemble (screw on the legs) and is very sturdy. It makes a lovely addition to any home.