View Product Reviews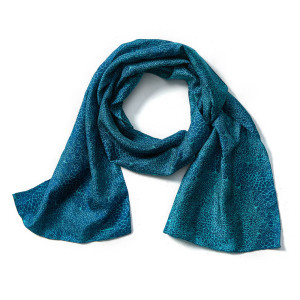 Dull
Sep 23, 2022 | Posted By Mary from MN United States
There is too much black patterning in this scarf which makes it look dull.
We're sorry this item didn't meet your expectations. The dark tone in our inventory is a deep navy, feel free to contact us directly to resolve this.
Beautiful scarf
Apr 19, 2022 | Posted By COLINE from LOS ANGLES, CA United States
Really beautiful scarf in size , pattern and color. It is for a gift and I am certain that my friend will love it.
Beautiful!
Oct 24, 2020 | Posted By Kathy from Nevada City, CA United States
I purchased this scarf as a gift. I was so impressed when I received it. The pattern detail is exceptional, and I love the colors. I am sure the recipient will be quite pleased.
Gorgeous!
May 5, 2020 | Posted By Kim from Falls Church, VA United States
I bought this scarf as a Mother's Day gift. It is my Mum's favorite color. It is gorgeous - looks even better in person than in the photos. There is a lot of fabric and the pattern is really neat, whether up close or far away. My mum absolutely loves it - she can wear it many different ways. Thank you!