View Product Reviews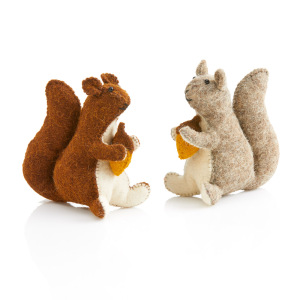 Super squirrels!
Jan 18, 2023 | Posted By Marge Garin from Clovis, CA United States
Squirrels are adorable and very well made . Even arrived well before projected date. Definitely would not hesitate to order again!
Fat and sassy
Dec 2, 2022 | Posted By JoAnn from Banks, OR United States
These will be fun ornaments to give my nextdoor neighbor who welcomes her squirrels and their antics at her bird feeders. Nicely made.
Adorable
Oct 4, 2022 | Posted By Carrie from Wexford , PA United States
These squirrels are adorable and well-made. Perfect little decor for fall.
Felt Squirrels a Big Hit
Feb 9, 2022 | Posted By Fran from Saunderstown, RI United States
The felt squirrels were a gift to a friend who loves squirrels. She often posts pictures of squirrels in her yard on Facebook. She was happy to get the felt squirrels and commented that they were adorable.
Adorable Squirrels
Mar 29, 2021 | Posted By Val Ardis from Longmont, CO United States
If you buy these wonderful squirrels for someone, you are going to want to keep them for yourself. They are beautifully made with wonderful detailing., They stand well and do not topple. Highly recommend.
Beautiful Workmanship
Mar 14, 2021 | Posted By Val Ardis from Longmont, CO United States
I highly recommend the artisan who created these beautiful squirrels. High quality, heavy felt, adorable expressions, sit up beautifully, and the tiny, tight stitches are amazing. I guarantee that you will be very pleased. My thanks to the artisan who created them!!
Felt squirrels
Nov 9, 2020 | Posted By JB from Coldwater , KS United States
These little squirrels are adorable. They fit right in with my felt pumpkins & leaves.
Cute squirrels
Nov 2, 2020 | Posted By BF from Sister Bay, WI United States
Nice, handmade touch for Fall decorating.
Perfect for mantle
Nov 1, 2020 | Posted By Stacie Chandler from North Adams, MA United States
These well made felt squirrels with acorns are precious!
squirrely
Oct 8, 2020 | Posted By Patricia Wiggins from Long Beach, CA United States
These two are sitting on my mantel which I will eventually be decorating for the holidays with other animal figures. They are very well made, so adorable, and I will treasure them for years to come.