View Product Reviews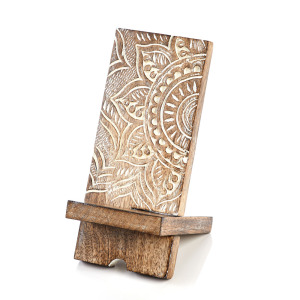 useful and beautiful
Mar 14, 2023 | Posted By Joanne Tanner from Boulder Creek, CA United States
Very nice, well designed and sturdy stand, also beautifully decorated. Using it a lot.
Love the Caddy
Sep 6, 2022 | Posted By Marcia Losco from Chicago, IL United States
When I return home, the first thing I do is place my cell phone on the Mandala Phone Stand. It includes access for my recharging wire, so I recharge my phone automatically when I remove it from my purse. Now when my phone rings at home, I always know where it is. No more frantic searching!
Beautiful!
May 4, 2022 | Posted By L Conley from Durham, NC United States
Perfect for me and so attractive! It's lightweight and I love that it's handmade!
Great for recipes
Jan 19, 2022 | Posted By BC from Northfield, MN United States
Very useful during prep - tight height and angle for seeing recipe - thanks
Beautifully made and functional
Mar 27, 2021 | Posted By Maureen J Sideris from Amenia, NY United States
Great product. I use it for my iPhone and my iPad.
Beautiful Workmanship
Dec 17, 2020 | Posted By IDELLA GOODMON from BRONX, NY United States
Beautifully made phone stand . Love the look, but the hole for the wire to connect to the phone is too small for some Samsung phones. Unfortunately, I have to have the hole drilled larger before distributing the 4 gifts.
Thank you for letting us know so we can double check these.
Great Phone Stand
Oct 25, 2020 | Posted By Joy from Macedonia , OH United States
This stand is very pretty, made well, and doesn't take up a lot of room on my desk. I love it!