View Product Reviews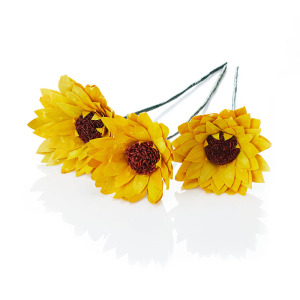 Easy to revive these corn husk flowers!
Aug 21, 2023 | Posted By Lynn from El Paso, TX United States
These flowers did arrive quite compressed and unattractive. The wired stems were simple to unbend. There were no wires in my flowers as the instructions indicated, but I spritzed them with water (quite a lot) and they easily were reshaped. The colors did not run at all as I was afraid they would. They dried in a few hours, ready for giving as a lovely gift.
Pretty perfect
May 19, 2021 | Posted By Gayle from Bend, OR United States
These are lovely and the exact right thing for my front-door wreath. A great purchase.
LynneJ
Apr 12, 2021 | Posted By Lynne from Quincy, MA United States
These sunflowers are just beautiful -- I have them in a holder on a kitchen brick wall where they look gorgeous -- so cheerful! When they arrived I had to gently spread the petals a bit. I love that they're made from corn husks!!
Response to Negative Review
Mar 12, 2021 | Posted By Grace Carol from Perrysburg, OH United States
About the flowers being turned inward, the description says: "These flowers ship closed to protect them during transit, but can be bent outwards as desired using the wire stems." About the size, the dimensions are stated. These are lovely handmade flowers!
Sunflowers
Jan 12, 2021 | Posted By Peggy Ray from Fairdale, KY United States
I had ordered this for Christmas. I completely understand that because of Covid and other circumstances, it took weeks to be delivered. I received it yesterday. The flowers are nothing like what is pictured, and are half the size of what is shown in the catalog.. The green color on the stems and leaves is bright and garish, and the husks are completely turned inward. They look like tulips, not sunflowers.
Delightful
Nov 19, 2020 | Posted By Carol Sperry from Lancaster, PA United States
These cornhusk flowers will brighten any spot . Well-made and a beautiful color, they are a marvelous addition to any decor.