View Product Reviews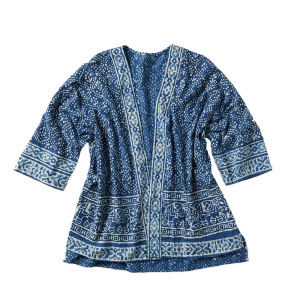 Ultra thin
Sep 26, 2023 | Posted By Marie Andrews from St. Louis , MO United States
Loved the indigo print, but fabric was paper thin. I returned it even though I got it at a fantastic sale price. Fabric weights would definitely help. This is the second time I've returned things because the fabric was too thin.
Beautiful in Blue
Jul 26, 2022 | Posted By Mary from Bayport, MN United States
Love the beautiful indigo dyed, hand stamped jacket. The pattern is perfection. It is generous and even fits me a 2X.
Love it
Jul 23, 2022 | Posted By Jean Frogner from Two Harbors, MN United States
I wear this when I am out in the sun. It keeps the sun off my arms. without adding any heat. It is light and cool to wear.
Extra large jacket
May 14, 2022 | Posted By Bonnie from St Paul, MN United States
Beautiful Fabric, this is not one size fits most it's an extra large. Fabric is very thin almost transparent. The indigo handwork is fantastic. Would love to keep it but it is enormous! Would recommend including some measurements to avoid unnecessary shipping back-and-forth.
Nice, but large
Jul 26, 2021 | Posted By Janet Brownlee Miller from COLUMBUS, OH United States
This is a nice cover-up, but it's one size fits all is quite large on this 5'3" woman.
Lovely
May 20, 2021 | Posted By Stacie Dougherty from Colorado Springs, NM United States
Beautiful, hand stamped and died fabric. Nice light weight for summer, perfect for going with white outfits.
fabulous fabrics
Apr 27, 2021 | Posted By Charlotte from Seabrook, SC United States
Lovely, light, richly dyed and beautifully printed - perfect for summer weather in the steamy southeast. Many thanks for your very tasteful selection of wondrous garments and linens!
Fantastic!
Apr 25, 2021 | Posted By Sue12 from Wilder, ID United States
Just beautiful. I got a 2x and it runs a little large, but I like it that way. It washed nicely on delicate and I even dried it. No shrinkage! Wonderfully made and will get lots of use from it.
Very nice
Apr 8, 2021 | Posted By Gini MacDonald from Winter Park, FL United States
Light weight, fun way to dress up jeans or for summer wrap. One size fits most.