View Product Reviews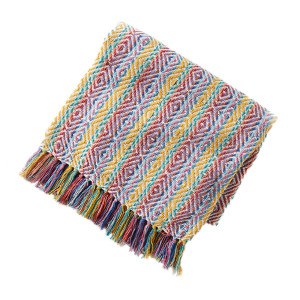 Gorgeous and comfy
Jul 18, 2023 | Posted By Deb Wilson from PALMYRA, PA United States
Simply a wonderful throw!
Nov 30, 2022 | Posted By Carryl Cole from bayside, NY United States
What a quality throw! The quality of the materials used is excellent. Product arrived in a short amount of time and true to description. I have ordered from SERRV before and highly recommend this quality & caring company.
Very nice product
Nov 30, 2022 | Posted By Linda Riggs from Glendale, AZ United States
Colorful and well made
Nov 29, 2022 | Posted By Rachel from Houston, TX United States
Ordered two of these, and they are even brighter and more festive than I expected. Very nice!
Yaatra Rainbow
Nov 16, 2022 | Posted By Mary from Berkeley, CA United States
The color was brighter than expected. I exchanged for Gold Chevron and was shocked when the cost for I returning Yaatra Rainbow was $20. Disappointed that you don't provide return postage coverage.
blanket
Nov 5, 2022 | Posted By Bob Slobig from Melrose Park, IL United States
The lightweight blanket adds an uplifting and eye-catching array of colors to the room.
Highly Recommend
Dec 12, 2021 | Posted By Beth from Portland, OR United States
I love this throw. It is so soft and cozy. It washed well.
Blanket
Jun 4, 2021 | Posted By Marilyn Lekkerkerk from Twin Falls, ID United States
I like all the colors. This blanket was purchased as a gift.
LOVE This!
Mar 31, 2021 | Posted By Lynda Obershaw from Pasadena, CA United States
I love the colors and the design of this throw. It's definitely an asset to my home. and in fact I liked it so much, I bought another to give as a gift!