View Product Reviews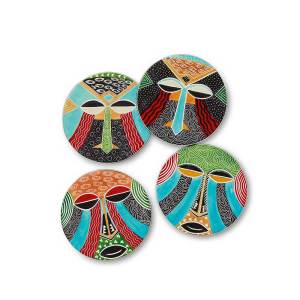 Makes a lovely gift
Dec 2, 2022 | Posted By Martha Paradeis from Tallahassee, FL United States
These coasters are just as pretty as they appear in the catalog or online. I haven't tried them with a cold drink, however--their performance remains to be seen.
So Beautiful
Jun 25, 2021 | Posted By Glendia Bost from New York, NY United States
I love these coasters. They're so beautifully vibrant and colorful. I loved them so much that I bought a set for my brother.
Artistic coasters
Apr 15, 2021 | Posted By Amanda Hall from Edmonton, AB Canada
They are so beautiful. They were very carefully wrapped too. They are too beautiful to use as coasters so I am thinking of a way to display them. They are so colourful and tribal.