View Product Reviews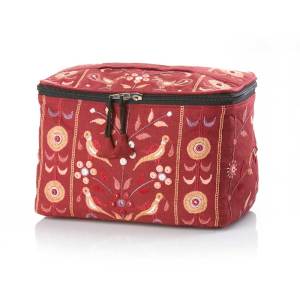 Beautifully stitched and functional
Sep 20, 2023 | Posted By Laura James from Denver, CO United States
I'm thrilled to be replacing an old, plastic toiletry kit/jewelry case with this beautifully stitched bag. It is large enough to hold all my toiletries and has a separate internal pouch for hair ties and jewelry. I haven't used it yet, so don't know how durable it is or how reliable the zipper is. Will give 4 stars for now based on functionality and style alone.
Lovely
Sep 15, 2023 | Posted By Nina Hiatt from Delta , CO United States
This is a beautiful case, well-made and practical with me plastic lining. I can't wait to try it out on my next trip.
Well made and beautiful
Jul 27, 2022 | Posted By Mollie from Yonkers, NY United States
I gave one of these in purple as a gift, and then wanted one for myself. I bought a red one to keep my sewing supplies in. It's just the right size, and the beautiful embroidery brightens up my laundry room! The plastic liner inside would make it easy to wipe clean or rinse out if used for toiletries and makeup,
Travel Case
Dec 22, 2021 | Posted By Christine S Harris from Canfield, OH United States
Very roomy. Good quality and beautiful