View Product Reviews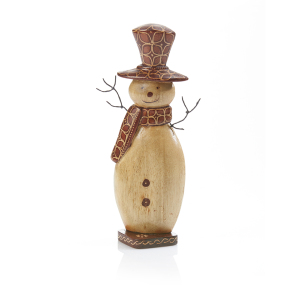 snowmen
Nov 10, 2023 | Posted By Linda Hastings from Greenfield , MA United States
I am a snowman collector. Everything on my Christmas tree and throughout my house is snowmen. I also give snowmen as gifts to my family and friends. The snowmen I have bought from Serrv are exceptional value and I love them.
Sweet snowman
Oct 11, 2023 | Posted By Margaret from Livermore, CA United States
Will be a great addition to my winter decor or will look great on its own. Honestly, initially I was thinking that it's not as nice as I had expected but I came to realize that I'm not used to purchasing handmade natural items. Now I look with deep appreciation at the eco friendly craftsmanship and love my snowman even more!
Sweet Snowman
Sep 19, 2023 | Posted By Deb Wayman from Washington Island, WI United States
I love seasonal decorations that can cover the winter holidays and also into the cold months following them. This snowman is happy, light and affordable. I love having an ethical option for seasonal decorating also - a win win.
Snowman
Dec 23, 2022 | Posted By Jennifer Jo Yoneji from Great Falls, MT United States
It's a very cute item. However, I was expecting it to be round. It's flat in the back. Still cute and nicely made.
Not as expected
Dec 12, 2021 | Posted By Brenda from Montana City, AL United States
The snowman is FLAT. I was so disappointed when I opened the box and saw the snowman. It looked so nice in the catalog. When you order a snowman you expect it to by ROUND. I returned it.
Cute Snowman
Dec 5, 2021 | Posted By Anne Jones from Greensboro, NC United States
My new snowman is wonderful! I like him because he is different from the usual snowman.
Snowman
Nov 29, 2021 | Posted By Camilla Hunter from Houston, TX United States
cute
Nov 11, 2021 | Posted By Ava F Swofford from Columbia, MO United States
Incredibly cute, and well made.
Snowman
Nov 11, 2021 | Posted By Marsha Smith from Martinsburg , PA United States
Cute!! But it arrived with the bottom piece broken off.
Thank you for letting us know. Customer Care has emailed you directly to resolve this.