View Product Reviews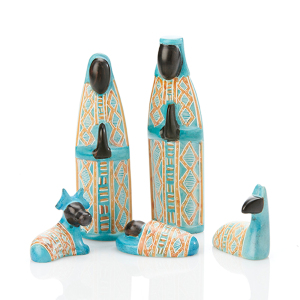 Lovely
Jan 18, 2023 | Posted By Teresa Angelino-Prieto from Jensen Beach, FL United States
I love Nativity sets from all over the world. The craftmanship is lovely and the colors are vibrant on this very nice set.
beautiful color and design
Jan 18, 2023 | Posted By Lee from Bellingham, WA United States
a unique and colorful nativity scene. solid, painted soapstone.
Lovely nativity
Jan 3, 2023 | Posted By Maria Siciliano from Los Angeles, CA United States
I love this bright, well-crafted nativity. It's not as tall as I thought it would be, which is good. It's arrived just in time for the Epiphany! Thank you.
Serene and calming
Jan 1, 2022 | Posted By Dianne P Ordog from Attleboro, MA United States
I love this nativity set. The colors are so relaxing, the detail is exquisite and I really enjoy the fact that the faces are not "white" as when this miricle occurred it was in a region of dark skinned people, not european whites.
Loved it
Dec 29, 2021 | Posted By Jamie Jackson from Las Vegas, NV United States
The quality was very good. It looks exactly as pictured.,
Hope I get them before Christmas
Dec 8, 2021 | Posted By Dena Toussaint from New York, NY United States
I am looking forward to the Soapstone Nativity figures. I do hope you can get them to me before Christmas. They look really lovely!