View Product Reviews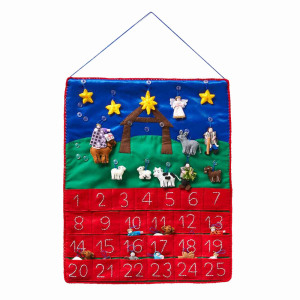 Beautiful Craftsmanship
Dec 23, 2022 | Posted By Amy Horn from Silverdale, WA United States
This calendar is absolutely beautiful! So colorful, intricate details and beautiful stitching. I can't wait to order another one for a family member when it is back in stock. This will be a family heirloom that will be passed down through generations, I'm sure!
Advent calendar
Dec 6, 2022 | Posted By Kathleen O'Neil from Greeley , CO United States
I sent this to my granddaughters who had a wonderful time deciding which element of the nativity to put in which pocket. It was a big hit. Also, very well made and charming!
Love this
Nov 28, 2022 | Posted By Linda Thomsen from Omaha, NE United States
My grandkids loved this calendar. The little figures are so cute and they love pulling out one each day to complete the Christmas scene.
Beautiful
Oct 4, 2022 | Posted By Carrie from Wexford, PA United States
This is beautiful, unique, and well-made. Such a sweet idea. I cannot wait to use it for Christmas.
Beautiful Advent Calendar
Nov 16, 2021 | Posted By Constance Renner from Columbia, MD, MD United States
These Advent calendars can be used for many years. They are beautifully hand sewn with much detail. The separate pieces are also cloth and a good size for even small hands to handle. I love that they are made by people who care enough to do their best.
Beautiful Advent Calendar!
Oct 29, 2021 | Posted By Julie Klatt from APO, AP United States
I love the bright colors and how it sets up! My kids will love to pull out the pieces each day as we build the scene of Jesus' birth!