View Product Reviews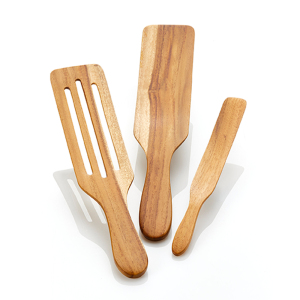 Beautiful Craftsmanship
Sep 21, 2023 | Posted By Janet M Mitchell from Cortez, CO United States
Quality sturdiness and beautiful craftsmanship!
Sad
Sep 6, 2023 | Posted By Rebecca Nutt from Bryan, TX United States
I instantly liked them the first time I used them. I was surprised how strong they were since they are made so thin. I really enjoyed the ease and versatility they gave for a variety of cooking, from stirring to flipping to straining. But then they began to bubble and peel. I did not use them over high heat. I only washed them with soap and water. I don't know if I did something wrong or if there was a defect. Either way, the finish or sealant on the wood was coming off, and I was afraid to let it get in my family's food. Unfortunately, I got no response from customer service when I requested help regarding the possible defect or safe use of the product. Sadly, I had to throw the spurdles out. I'm sad to have lost these great tools and to have lost good money.
We sincerely apologize for not responding in a timely manner, this was a mistake on our part. We've provided you with a credit for these.
Beautiful
Aug 18, 2023 | Posted By Martha Serafin from West boylston, MA United States
I bought one set for a friend and liked it so much I went back and bought a set for myself and one for a gift.
Beautiful!
Jun 29, 2023 | Posted By Lorna from Austin, TX United States
I never thought that kitchen utensils could be beautiful until I met these. They are so smooth, lightweight, and perfectly shaped. I use the slotted spurtle to combine my dry ingredients when baking and the small one to spread icing. The large one is used to serve. Especially love that the purchase contributes to fair wages, livable work conditions, and promotes the dignity of all people. Highly recommend!
Very nice
Jun 18, 2023 | Posted By Mae from Austin, TX United States
Smooth and lightweight. Great quality.
Love them
Oct 12, 2021 | Posted By Joyce from Wamego, KS United States
I just love the Spurtles. They feel good in the hands, and are of great quality .