View Product Reviews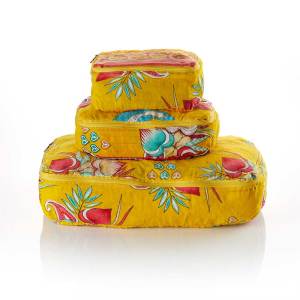 Great product
Feb 23, 2023 | Posted By Joe from San Marcos, TX United States
Bought these for my wife and she loves them! Very nice quality and they seem well made.
Bags need stiffening
Jun 14, 2022 | Posted By Peter Buck from Roslindale, MA United States
The sari material is beautiful, but it is too thin to hold its shape and I'm not sure how well it protects the contents. We have commercially-made packing cubes that are made with fairly stiff nylon cordura, and the sides stand up when the packing cube is zipped open, and holds its shape when closed. Could you use several layers of sari stitched together to make a stiffer, thicker material? I always have this question about traditionally-made items using zippers. Would it be possible to use several buttons, made with cow-horn or other natural material instead?
Thank you for your suggestion - and your support! This has been passed on to our product team for consideration.