View Product Reviews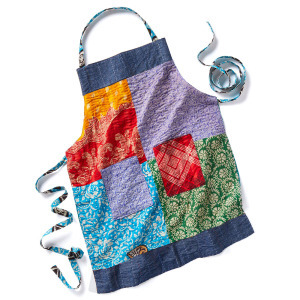 Upcycled Sari & Denim Apron
Aug 29, 2023 | Posted By Hazel Johnson from Mcneal, AZ United States
Secret Santa Grab-Bag Gift
Dec 11, 2022 | Posted By Mary O'Brien from New Britain, CT United States
The person who received the apron absolutely flipped for it, and recognized it as a Fair Trade Product!!!
Nicely made
Dec 7, 2022 | Posted By Kathleen Andres from Nassau, NY United States
This is a gift. Not the color combinations I would choose but can be worn either side (one without pockets). I appreciate that it is made with up-cycled materials.
Well-made, colorful, and useful!
Nov 4, 2022 | Posted By Sandra Henderson from La Porte, IN United States
I love this apron. I do have a couple of quibbles. The top is too wide, so I had to take a tuck in it (actually, a safety pin); and the tie is too long, so I had to cut off about 2 feet. But ithe quality is excellent, it is fun to wear, and covers well.
LOVE!
Jul 28, 2022 | Posted By Sandy from Tacoma, WA United States
I love, love, love this!!! The materials are fabulous and it's great that the strap is completely adjustable. It makes me happy just seeing it! Would also make a great gift.
Wonderful apron
Jun 22, 2022 | Posted By Nancy G Anderson from Ventura, CA United States
This a beautiful, high quality apron. I smile each time I use it.
Sari apron
Jun 16, 2022 | Posted By Laurie from Portland, OR United States
I like this apron a lot, especially the neck/waist ties that adjust by being drawn through the side tubes on the apron. Colorful fabric.
Makes cooking a bit more fun
May 31, 2022 | Posted By Joanne LaPorte from Columbia, MD United States
I had a similar apron from SERRV but it was lost in a move. I love this one even more because the pattern is much more colorful. Another great find.
Perfect
Apr 29, 2022 | Posted By Deborah Taylor-Pearce from San Diego, CA United States
I know one reviewer was disappointed by the darker colors, but I love them! The one-of-a-kind Upcycled Sari & Denim Apron I received is stunning -- a true work of art that heightens my kitchen experience. The apron itself (including the bib) provides excellent coverage, and the 3/4"-wide, 140"-long adjustable tie allows for easy on/off. Couldn't ask for anything more in an apron....
Just as Expected
Apr 16, 2022 | Posted By Michele J Jurasek from Banks, OR United States
Great design, color, & size.
pretty apron
Feb 6, 2022 | Posted By Victoria L Jordan from San Diego, CA United States
It is pretty and well made. I know that fabrics will vary (obviously) but the colors are darker, and I think not as pretty as the one pictured. It is a gift for a friend, so we will see what she thinks of it.
Absolutely beautiful
Dec 29, 2021 | Posted By Kristin from Montgomery, AL United States
Beautiful. Superb craftsmanship. Gave it as a gift and recipient so thrilled with the quality and beauty. Not something you can get in a regular chain store. Adjustable sizing for neck, not with metal rings but through the seams, is a nice added touch.