View Product Reviews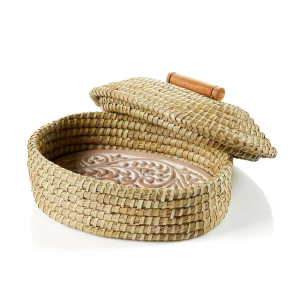 Bread basket
May 19, 2023 | Posted By Heather Stevens from Brighton, MI United States
Beautiful! And so practical- For any bread or pastry. My family loves them a bit warm and this is the perfect thing to help. I display it on my fridge when not in use- that's how pretty it is.
Nicely made and the stone is marvelous
May 9, 2023 | Posted By Renee Nunamaker from Pullman, WA United States
I really like this bread server and can't wait to use it. The workmanship is very nice on both the basket and the stone.
Lidded Double Vine Breadwarmer
Mar 21, 2023 | Posted By Miriam from Magee, MS United States
I love this breadwarmer. Not only is it attractive but it keeps the bread warm at a perfect temperature. I liked it so much I bought two more for gifts.