View Product Reviews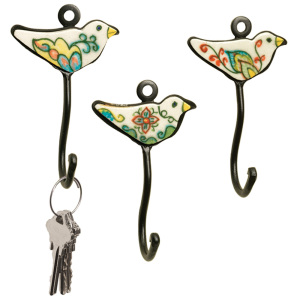 Little bird hooks set of 3
Oct 30, 2022 | Posted By Pat Barnes from Baltimore, MD United States
These delicate looking hooks work very well for for hanging hand towels! Each one is a little different. They were easy to hang as well!
It brought joy
May 2, 2022 | Posted By Susan Kenney from Carmichael , CA United States
This was a gift to a friend who is moving into, small studio apartment. These hooks will be great space savers. She had never heard of SERRV so I had the opportunity to describe your work.
Pretty and useful
Jan 10, 2022 | Posted By Kathryn Wicks from West St Paul, MN United States
I bought these for gifts. The recipient can hang face mask or keys on them
cute and functional
Nov 16, 2021 | Posted By M from MURRYSVILLE, PA United States
I use these hooks for hanging up my kids' backpacks, and they have worked out quite well. Kudos to the SERRV staff who, when I asked how much weight the hooks could hold, took the time to test them in the warehouse before I ordered. That's thoughtful customer service!
Sweet!
Aug 13, 2021 | Posted By Moxie Fair Trade & Handmade LLC from Taos, NM United States
These are the sweetest little bird hooks, ever!! Selling very well!!
Ok
Dec 9, 2014 | Posted By Laura from Alexandria, VA United States
I wanted to like these, but I think the ceramic part should be heavier. When I removed the towel from the hook, it fell from the wall onto the floor and cracked. Since then, I've nailed around the ceramic part to keep it balanced on the wall, but I still have to be really careful about putting things on and taking things off these hooks..
Love them, so cute!
Sep 15, 2014 | Posted By Juliet from Atlanta, GA United States
I love these little hooks, and bought two sets of them to use in various areas of the house..for dish towel, keys, robe, necklaces... I always get compliments on them and ended up giving away two as house-warming gifts.
Pretty birds but they crack easily
Jun 24, 2012 | Posted By Liz from Bellingham, WA United States
These little birds are beautiful and the metal parts are sturdy. They are easy to hang on a wall. But the ceramic parts tend to crack. Two of mine cracked before I even put them up on the wall. I repaired them with super glue and they don't look too bad.