View Product Reviews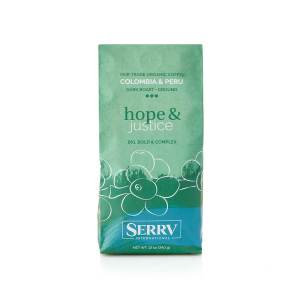 Delicious Coffee
Jun 7, 2023 | Posted By M. from Sandy Springs, GA United States
I gave this coffee as a gift to a friend, who said that it was delicious.
Dark Coffee Yes
Feb 6, 2023 | Posted By Bill from North Riverside, IL United States
This is one of my favorites, Very good coffee. I have tried all types from Serrv and continued to purchase these as It's nice changing up flavors. I love that we support small growers and fair trade. Have given as gifts and people enjoy them. I like the dark roast and think you will too.
Delicious Coffee
Nov 30, 2022 | Posted By Mary from Sandy Springs, GA United States
I gave this coffee as a gift to a friend. She said that it was deliciou. She also appreciated that the coffee was fair trade.
Bold, Robust, & Dark
Oct 14, 2021 | Posted By Barb Reisner from La Crosse, WI United States
Perfect for that first cup in the morning & with an afternoon snack !
coffee
Nov 28, 2020 | Posted By wille peters from Albuquerque, NM United States
Delicious
Sep 10, 2020 | Posted By Eloise Marsh from Shamong, NJ United States
perfect sibling Christmas present
Aug 19, 2020 | Posted By Margaret Zufall Roberts from Mount Tabor, NJ United States
Every year I put together a gift basket for each of my siblings. This will be perfect it it!
Prefer this
Dec 26, 2016 | Posted By Marianne from Bronx, NY United States
I prefer this blend to the Sisterhood Solidarity. I prefer stronger blends, in general; strong and full-bodied and not bitter.
Fancy coffee!!
Dec 24, 2016 | Posted By Karen from Mobile, AL United States
You know how you have your normal "home" coffee and then have "fancy tasting" coffee at a coffee shop - this is that fancy coffee. It tastes great!! My husband and I really enjoy it. We plan on buying several more.