View Product Reviews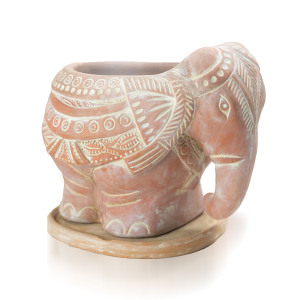 Poor Shipping & Quality Control
Jun 12, 2021 | Posted By Peter Klappert from Palmetto, FL United States
The planter's tray was--it was packed under the heavy planter, which I do like. This was my 2nd Serrv order in a row to arrive with pieces broken. Serrv quickly replaced the broken parts, but it's clear their suppliers don't understand packing for shipment. In addition, altho I've put nothing in the elephant, the rim around the opening has been shipping/flaking of its own accord. I like folk art and support many organizations like Serrv, but I'll hesitate to order in the future,
Love this
Feb 24, 2020 | Posted By sooz from Longmont, CO United States
the elephant planter is beautiful! very strong and sturdy just like an elephant should be! love him, can hardly wait to find the perfect plant for it!
I love it!
Jan 24, 2020 | Posted By Mary Snyder from Jefferson City, TN United States
This elephant planter was bigger than I thought, even though I read the measurements before buying AND it came with a terra cotta tray for him to sit on!! Absolutely perfect!
Great
May 25, 2018 | Posted By Sherry from El Paso, TX United States
Love it. Just what I was looking for.
Great buy
May 24, 2018 | Posted By Maryanne from San Marcos, AL United States
Loved the darling elephant planter. Good service and good quality.
Gift
May 20, 2018 | Posted By Linda from Seabrook, TX United States
It was sent as a gift and was really liked by the person who received it!
Love my Elephant!
Mar 17, 2018 | Posted By Sandi from Mead, WA United States
I love this little planter, it is so well made, the detail on it is really good, I'm really pleased with it, thank you!!
A Beauty
Feb 25, 2018 | Posted By Paulette from Elmont, NY United States
I bought an elephant planter and really like the sturdy and good-looking appearance. Then they were out of stock! I quickly bought another as soon as notice came that they were available again. It is really an attractive planter and holds the plant well. I would recommend this as a piece to own.
Love it!
Feb 15, 2018 | Posted By Karen from Bealeton, VA United States
When I asked to be notified if this adorable elephant planter came back in stock. When it did, I gave myself a gift! And I love it. I put in a small potted poinsettia that is still pretty and it looks wonderful.
Fell apart
May 15, 2017 | Posted By Shana from Lamar, CO United States
I planted a strawberry plant in it for a house warming gift, within a week the pot started sloughing off from moisture! I cannot give it as a gift now.
We're so sorry this happened! Please contact Customer Care so they can help you with a return.
Excellent!
Apr 20, 2017 | Posted By Georgina from PITTSBURGH, PA United States
This arrived very well packed. It is really very nice and I love the matching saucer.
Simply Lovely!
Feb 19, 2017 | Posted By Denise from Mt. Pleasant, PA United States
Looks perfect on my kitchen island. I smile every day when I see it. Especially love that it has a matching plant saucer!
Another gorgeous planter from Serrv!
Feb 10, 2017 | Posted By Suzanne from Katy, TX United States
Bigger than expected, which is good for me! It's very sturdy, and the details are incredible. Just gorgeous.
Great quality
Dec 26, 2014 | Posted By Bette Schneider from Ojai, CA United States
I bought this planter as a gift for a friend. It arrived packaged so carefully! It is a beautiful piece -- of very high quality workmanship! I was so impressed I'm buying another for myself.