View Product Reviews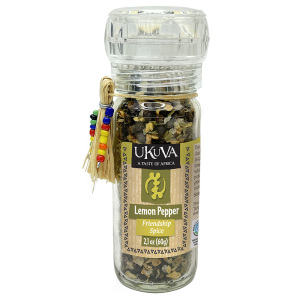 I bought a box full and gave it to my friends and left two at our vacation rentals.
Aug 22, 2023 | Posted By Ray from Schaumburg, IL United States
Great taste that contains salt.
My Favorite spice
Apr 23, 2023 | Posted By Sherri from Atlanta, GA United States
This Lemon Pepper spice is great. With the built-in grinder, it maintains the flavor longer than other store-bought pre-ground spices. I use it often for topping vegetables as well as making baked lemon-pepper wings. It's my favorite and most-used spice and I have in my spice rack.
Repeat buy
Jul 26, 2022 | Posted By Claudia J from Long Island City, NY United States
I liked this so much I'm buying one for myself and other for a gift
So Great!
Apr 20, 2021 | Posted By Eileen Johnson Oddo from White Plains, NY United States
Love this on veggies, fish, beans snd rice...everything! Will order more!
Swahili Lemon Pepper
May 17, 2019 | Posted By G. Paul Richter from Buckhannon, WV United States
Very tasty; adds "zing"; could do with a bit less salt in the mixture and perhaps a bit more lemon.
Love this product
Apr 23, 2019 | Posted By Kathie Younghans from AUSTIN, TX United States
I love this product, it is so complex! I love the citrus and pepper as well as the salt- I recommend it to all of our customers and have already used a bottle. Oh, and the grinder is a plus and works great!
Wonderful Lemon Pepper
Sep 29, 2018 | Posted By Karen from New York, NY United States
This lemon pepper combination is great on fish, chicken & beef dishes. Also adds some great taste to mashed potatoes & pasta dishes. This is a seasoning I never want to run short of.
spice
Jun 25, 2017 | Posted By Pat from Alma, MI United States
This will make a very nice little gift. Great value.
Great
Nov 22, 2016 | Posted By Robin from Stevens Point, WI United States
This is a great combination of flavors!