View Product Reviews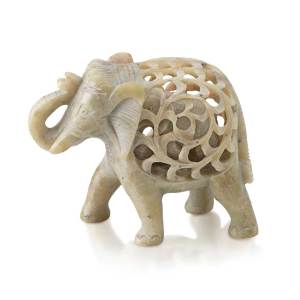 Double Carved Elephants
Oct 23, 2022 | Posted By Pat Bell from Copley, OH United States
Our customers love the double carved elephants. They are very popular with our customers.
A constant favorite
Dec 22, 2021 | Posted By Margo Vanderhill from Alton, IA United States
The intricately carved elephant is a customer favorite, The double take of an exterior texture and detail with an internal miniature carving continues to amaze and delight.
Double-Carved Gorara Elephant
Dec 21, 2021 | Posted By moxie from Manzanita, OR United States
Love this little elephant. Its a great seller and our customers just love it. I would ask the tag be put on the back or bottom rather than the front of face. The tags current placement makes displaying challenging and can be ugly to the eye and display
Thank you for this feedback! We're looking into this.
elephant
Dec 8, 2021 | Posted By Margaret McDonald from Friendswood, TX United States
I love this little elephant and so does everyone who sees it.
Mommy elephant carving
Apr 1, 2021 | Posted By Debbie from Swanton , MD United States
I have this incredible carved elephant which has her baby in her belly, such detail, it was a gift from my friend, and I love it!
For the Elephant Fan
Dec 3, 2016 | Posted By Gloria from Lynn, MA United States
My sister loves and collects elephants. This piece is great because it has the (much smaller) elephant inside the outside elephant, which has the trunk facing upwards, a sign of good luck. It's not very big, but smacks full of good wishes.
Amazing
Jul 6, 2016 | Posted By Patricia Reid from Raleigh, NC United States
What craftsmanship to create this curio.
Carved elephant
Jun 29, 2016 | Posted By Kristin from Divide, CO United States
I am a lover of elephants and this carving is beautifully done. I enjoy looking at it . The stone it has been carved out of is also very beautiful
Unique
Dec 30, 2014 | Posted By Dorothy from SAN ANTONIO, TX United States
I have a collection of elephants that goes back over 40 years, and this is one of the most unique pieces in my collection. My nephew gave it to me for Christmas, and I love it. Beautiful and very high quality.
carved elephants
May 14, 2014 | Posted By Rhonda Binderup from Hastings, NE United States
Just amazing the details & that the artisan could create this from a solid stone, I loved just looking at all the details.