View Product Reviews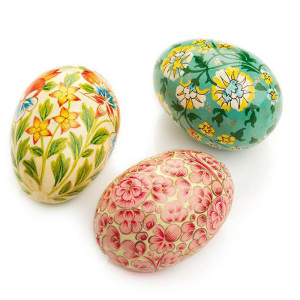 Beautiful eggs
Mar 29, 2023 | Posted By Karen Williams from Raleigh , NC United States
I bought them for my sister for Easter. I showed them mine and they loved them
Beautiful every time
Mar 21, 2022 | Posted By Sigrid Jacobsen from Santa Clara, CA United States
I order a set of these almost every Easter as gifts and to add to a growing collection. The detail is beautiful and I love the color combinations. Can make multiple nests around the house.
Eggs
Apr 17, 2021 | Posted By Carolyn Wahl-Uhing from Omaha, NE United States
Beautiful painted eggs
Mar 24, 2021 | Posted By Sara from Nags Head, NC United States
Lovely, incredible workmanship, look beautiful in a glass bowl for a Spring display.
Beautiful!
Mar 18, 2021 | Posted By Laura Henson from San Diego, CA United States
These eggs are beautiful to touch and look at. Great for table decorations.
Gift
Apr 20, 2020 | Posted By MAUREEN SCHULTZ from Saginaw, MI United States
These eggs were a gift to my son and daughter-in-law. I will be adding to this collection in the years to come. Beautiful!
Easter smiles
Apr 18, 2020 | Posted By Wendy Waugh from Hillsborough, NC United States
I gave an Easter egg to each of my neighbors on Easter Sunday and they were all thrilled. They all commented on how beautiful the eggs were and smiled a lot. The eggs are a great Easter gift that lasts.
Springtime Kashmiri Eggs
Apr 15, 2020 | Posted By Arlene from Kansas City, MO United States
These beautiful hand-painted eggs make me smile! I ordered another set of these after the first ones arrived. I am keeping them out although Easter has passed. Thank you and blessings to the artist!
missannie
Apr 14, 2019 | Posted By Suzanne Vasta from El Segundo, CA United States
I love these hand-painted eggs! They add a lovely touch of color to my Easter decorations.
Love my Easter Eggs
Apr 3, 2018 | Posted By Dianne from Myerstown, PA United States
I ordered a set of 3 Easter Eggs. They are beautiful, wonderful craftsmanship, very pleased - they are a great addition to my collection.
Very Pleased!
Mar 24, 2018 | Posted By Martha from Pinetop, AZ United States
This was my third order of the Easter Eggs. I order each Easter and the display I've made is unique and beautiful.
Very pretty
Mar 23, 2018 | Posted By Betsy from Donora, PA United States
The eggs are lovely, very high quality!
Beautiful Easter Gift!
Mar 20, 2018 | Posted By Nada from White Plains, NY United States
These delicately painted wooden eggs make a wonderful house gift for friends and family at Easter time. I purchased two gift sets and have received fabulous reviews and appreciation. It feels great to support artists in Kashmir!
The look of Spring.
Mar 19, 2018 | Posted By Ernest from Richardton, ND United States
Love the fresh look of these Springtime Kashmiri eggs.
Lovely Eggs
Feb 19, 2018 | Posted By Marilyn from Houston, TX United States
The art work is exquisite. The eggs are a bit larger than I imagined.
Great
Feb 17, 2018 | Posted By G from Fairfax, VA United States
Great colors, painting, details and laquering.
Exquisite
Apr 8, 2017 | Posted By Lisa from Orem, UT United States
I buy these every year - they're extraordinary!