View Product Reviews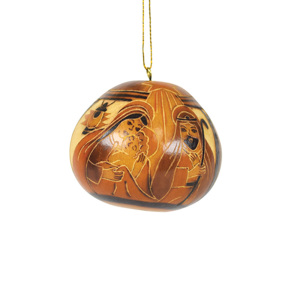 nativity gourd ornament
Nov 3, 2022 | Posted By Barbara S Neel from Springfield, VA United States
Precious nativity
Dec 27, 2021 | Posted By Mary Lou Cox from Monterey, VA United States
The workmanship and artistry are superb on this little gourd! We do not have a tree this year, but we found a special spot to hang this! Thank you!
Just what I wanted
Dec 19, 2021 | Posted By Ruth Harteneck from Oakland, CA United States
Very tender Nativity scene wood-burned into the little gourd. A memory of Peru that looks great on our tree.
Unique and meaningful
Jan 19, 2021 | Posted By Debra Watson from EDEN, NC United States
This ornament is a unique one and reflects the meaning of Christmas.
Nativity Gourd Ornament
Dec 29, 2020 | Posted By Carol Salatka from Encinitas, CA United States
It was truly beautiful! I ordered 8 to give to my church cleaning helpers and they all loved them. So unique and pretty.
Awesome ornament
Dec 23, 2020 | Posted By Judi from West Richland, WA United States
I love this ornament. Just is amazing how talented some people are! It's beautiful! I will buy more for gifts next year.
Nativity gourd
Oct 15, 2019 | Posted By Katie from North Yarmouth , ME United States
I have been collecting nativities for years and I especially enjoyed this ornament. So beautifully well made. I can't wait to hang this up on a Christmas tree this year!
Love all items from Serrv.org
Nov 5, 2018 | Posted By Lani from Carlsbad, CA United States
I've been ordering items for many years, especially Christmas ornaments. I love all of them. They are unique and special that they are handmade by local artisans.