View Product Reviews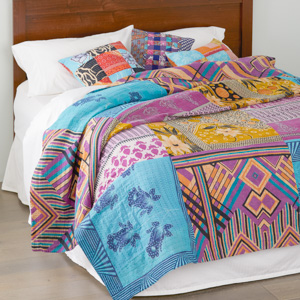 Not Exactly as Expected
Jul 18, 2022 | Posted By Kimberly Mcnutt from Silver Spring, MD United States
Very nice lightweight bed cover. I knew I wouldn't be getting the one pictured but expected something closer. The one pictured is bright and fun. Mine is nice but not bright. I probably won't use it myself. But I will pass it on so someone else whose bedroom might match it better.
Perfect Covering
Jun 17, 2022 | Posted By Sandy Olivier from Marco Island, FL United States
This cover is just the right weight for our southwest Florida weather! The colors and pattern are bright and cheerful. This cover washes beautifully in cold water. It is good to know we are supporting hard-working and creative artisans with something we enjoy so much.
Cool and Comfy
Jul 21, 2021 | Posted By Monica from Seattle, WA United States
Really nice and lightweight for those hottest nights of the year. It's best not to have any expectation on the colors - just be pleasantly surprised by whatever shows up! If you're really stuck on a specific color, this is not the product for you.
Beautiful
Apr 11, 2021 | Posted By Carolyn from Cadillac , MI United States
This piece is beautiful! I made the mistake that this would have some warmth and it's very very light! I am keeping although I need to have another fleece below likely until late spring /summer. The climate is much too cool here!
Cool Bedcover
Nov 8, 2020 | Posted By Denise Padilla from Manteca, CA United States
I love it!! The stitching is beautiful I was expecting different cloth than the picture but it is very close to the picture. Just beautiful!
I love this quilt
Jul 13, 2019 | Posted By Terry de la Vega from Potsdam, NY United States
I bought the queen sized quilt as a summer cover for my bed. I decided on the cool quilt to top my cotton waffle weave blanket. This turned out to be the perfect weight. It has a variety of bold prints, mostly turquoise, green, and gold with muted backgrounds. It is beautifully quilted with red stitching. I plan to buy one or two lap quilts for the winter.
Cool and Pretty
Jun 6, 2019 | Posted By Sandra Olivier from Marco Islsnd, FL United States
We live in far southwest Florida and need a lightweight cover. This is perfect! Each cover is unique. Ours looks nothing like the photo in the catalog, but it is pretty in its own right.
Beautiful
Oct 10, 2018 | Posted By Nancy abbey from Hamden , CT United States
This is the perfect weight for summer, and will look colorful on top of my solid color winter quilt. It has brightened my bedroom considerably!
Cool Queen Kantha Bedspread
Sep 16, 2018 | Posted By Marjory Harper from Topanga, CA United States
I just sent it back. It's beautiful but I had requested one with pinks, blues and greens. I was told that your "picker" would pick one out with those colors. The spread that I got really didn't fit that description. I just sent it back. It cost me $28.00 to return it and an additional amount for shipping it to me. So, I blew almost $50. I just can't order from you any more. If you didn't have the colors I requested, you should just have said so, and saved me all that money.
We cannot guarantee colors on our Kantha items, because they are all recycled content and every one is unique. We apologize for not being clear about this. Our customer care team will contact you to resolve this situation.
Awesome
Jun 2, 2018 | Posted By Janie1108 from Sturgi, MI United States
I have 3 of these quilts and they are each exquisite! They do, however, vary a LOT from the picture in the catalog. I got something different with each one, but they compliment each other so perfectly. They are lightweight, but warm, for summer.
Wow! Best bedspread ever!
May 10, 2018 | Posted By Kimberly from Fenwick, DE United States
We love our new bedspread. The hand work is incredible. Washes well. It amazes me how women can recycle cloth and make such a fabulous product.
Gorgeous boho textile!
Nov 11, 2017 | Posted By Julez from Atlanta, GA United States
I love this bedspread. It is just the right weight for spring bedding and winter layering and the patchwork creates a ton of visual interest. I paired it with simple white shams, and my bed looks so inviting. Washes beautifully, feels softer, and looks like a well-weathered beloved heirloom. I bought from my local store to pick out the colors I wanted. If you are buying online, start with the blanket, then buy your accent pieces/paint color. Colors range from lavenders, pinks, pale sky blue, to olive green.
Colors not as pictured
Mar 23, 2016 | Posted By Heidi Hanson from Sioux Falls , SD United States
The colors are not bright as pictured. It's not ugly but I was expecting bright pinks and squad and it came with all muted colored pieces. Disappointed, especially given the price I paid.
We're sorry you're not happy with this item. Patterns and colors will vary, as each is one-of-a-kind and made with recycled saris.