View Product Reviews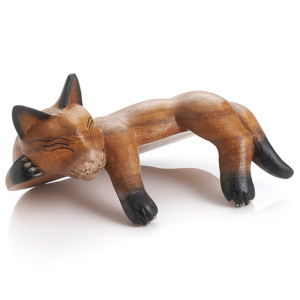 nicely crafted
Sep 20, 2023 | Posted By Maggie from Cincinnati, OH United States
This is a very attractive, little cat. Our gift recipient will love it.
Napping Shelf Cat
Sep 5, 2023 | Posted By kcool from Warwick, RI United States
Very nice piece - definitely a work of art! Daughter loved it!
So Sweet!
Mar 11, 2023 | Posted By Ellen J Koretz from Seattle, WA United States
This kitty is hangin' out in my cubicle at the office. Everyone loves it!
Meow!!!
Oct 18, 2021 | Posted By Josephine sharpe from Wildwood, NJ United States
Napping self cat laying on kitchen window sill. Is perfect for that spot. Just chillin'.
Loving
Dec 6, 2020 | Posted By Stacie from North Adams, MA United States
This little kitty is just beautiful and leans on my bookshelf
Wonderful!
Dec 6, 2020 | Posted By Margaret from Horace, ND United States
Wonderful carved piece! Exactly like the picture! Thank you!
Love these
Oct 15, 2020 | Posted By Renee Maxwell from Atlanta, MO United States
These fit perfectly on the stone shelves of our fireplace. I love them; seeing them just makes me happy. We have three, so far...
so sweet
Dec 15, 2019 | Posted By Ms. Kane Clawson from Falls Village, CT United States
got it as a gift but sure it will be loved
Sleeping Beauty
Mar 19, 2018 | Posted By Ernest from Richardton, ND United States
These napping shelf cats have sold well in my store. Lots of cat fanciers out there. And the pose is very calming.
Delightful
Mar 18, 2017 | Posted By Marie from Nashotah, WI United States
Really captures the character of a napping cat. Love it!