View Product Reviews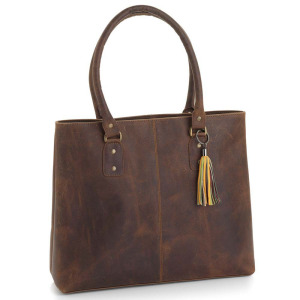 So glad I purchased this bag!
Jul 15, 2022 | Posted By Marsha from Alexandria , VA United States
I'd had my eye on this bag for some years and finally purchased it on sale. So glad I did! It's beautiful and very well-constructed, and I can tell it will last for many years. Highly recommended!
Excellent Quality
Feb 8, 2022 | Posted By Yolanda Tanner from Allen, TX United States
This leather purse is extremely well made! The printed fabric lining the inside complements the rich brown colors of the leather. I appreciate the easy ordering process and on time delivery as well!
Great
Dec 6, 2020 | Posted By mary ann from Huber Heights, OH United States
This was a good replacement for the bag I used to throw loose items in for meetings and the like. Like the pockets inside and magnetic closer at the top.
Love this bag!
Jun 3, 2020 | Posted By SARAH M ROSS from WEBSTER, NH United States
This bag is amazing! It is sturdy and chic all in one. The shipping was extremely fast as well. Very pleased with the entire experience.
Nicely made and stylish
Aug 28, 2017 | Posted By Jaime from Westminster, CO United States
I had been eyeing this bag for months, and finally jumped when it was on sale. It's made very well, the lining is nice, the leather is soft and seems to be of high quality. Love this bag!