View Product Reviews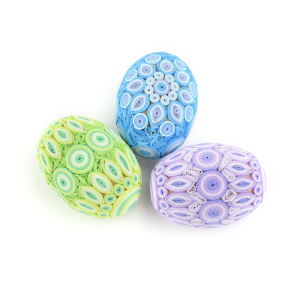 Pastel Skilled Egg Set
May 5, 2023 | Posted By Marianne Hardesty from Newark, DE United States
Love that the colors are true to the catalog picture and the quilling is nicely done. One egg is not flat on the bottom so it won't stay up right. Would order again though.
Just beautiful
Mar 15, 2023 | Posted By Kristina Mikesic from Louisburg, KS United States
These are stunning. Glad I bought them. Love the detail and color.
Easter or anytime
Apr 10, 2021 | Posted By Megan Henley Kinney from BETHESDA, MD United States
Perfect gift
Apr 10, 2021 | Posted By J Williams from S DARTMOUTH, MA United States
I gave these quilled eggs as a gift to my sister for Easter. She loved them. Well rendered, quality thank you
Quilled eggs
Apr 8, 2021 | Posted By Janice Herman from Conestoga, PA United States
Very well made and attractive
Beautiful egg!
Mar 4, 2021 | Posted By Gerald G. Vath from Lancaster, PA United States
I bought several varieties of these and they are gorgeous! Tightly quilled on a wooden egg, just as advertised.
Exquisite Eggs
Mar 25, 2019 | Posted By Jane Shish from Elmhurst, KY United States
These handmade eggs are gorgeous...such beautiful craftsmanship! They are the perfect hostess gift for the upcoming spring season. Thank you for making these items available to all of us.
Pastel Quilled Eggs
Mar 24, 2019 | Posted By Gregg Lopez from Lantana, FL United States
Absolutely beautiful ! What Art work, I really like these ! Thank you
Pastel Quilted Eggs
Mar 15, 2018 | Posted By Denise from Corpus Christi, TX United States
Beautifully done. Intricate. Lovely.
Beautiful Eggs
Mar 13, 2018 | Posted By Suzanne from GLEN MILLS, PA United States
These eggs are so beautiful and well crafted, Each year I buy my 3 grandkids a special egg to keep for years to come. This is the first quilled eggs I bought for them. Service was fast and courteous. I would definitely buy from them again.
Amazingly beautiful!
Mar 10, 2018 | Posted By Mary from Jacksonville, FL United States
By the time I got around to placing my order last year, these gorgeous eggs were out of stock. They are so lovely; I will not put them away after Easter. Quilling is an extraordinary craft.
Lovely quilled eggs
Apr 5, 2017 | Posted By C from Groton, NY United States
Very nicely done. Lovely colors. I am a big fan of quilling, but this is the first time I've seen it done for a 3D object. It is very attractive and will be a great Easter decoration.
Quilted pastel eggs
Mar 30, 2017 | Posted By Virginia from Aberdeen , MD United States
Arrived quickly and are beautiful. Just as pictured in catalogue.
Quilled Pastel Eggs
Mar 29, 2017 | Posted By Rebecca from Streetsboro, OH United States
Nice
Mar 26, 2017 | Posted By Peter from Tucson , AZ United States
Beautiful, my wife loved them
quilled eggs
Mar 9, 2017 | Posted By Trudy from Edina, MN United States
exquisite in how fine the work is
Pcj
Feb 23, 2017 | Posted By Patricia from Weirton, WV United States
The eggs are very intricate and pretty.