View Product Reviews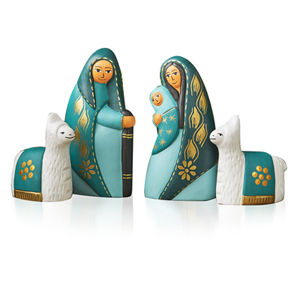 Precious
Nov 21, 2023 | Posted By Karyn Gibson from St. Louis Park, MN United States
I like the small Nativity sets because I have little space. I also purchased the Ecuadorian set a few years. This set is so colorful and pleasant and will be fun to display. Great quality and just like the photos.
Lovely nativity!
Nov 26, 2022 | Posted By Mary from Ankeny, IA United States
Beautifully made nativity. All 4 pieces are exquisite. I am so pleased.
Nativity from Peru
Nov 19, 2022 | Posted By Marsha R Roberts from Rock Hill, SC United States
I waited a year for this! It was out of stock last year and I am so excited to purchase it this year! The pieces are lovely. The color is so unique. Such a wonderful addition to my nativity collection.
Teal Nativity
Sep 30, 2022 | Posted By Judith Kurz from PLANO, TX United States
Been eyeing this for a while but was out of stock. Then - received an email stating it was back in stock. I ordered immediately and received it fast. Love it...the colors and size are perfect!
Adorable Creche
Dec 13, 2021 | Posted By HUNTER from DECATUR, GA United States
These little figures are exactly as shown and are such unusual colors. I'm delighted to have them on display for Christmas.
A Beautiful Set
Nov 28, 2021 | Posted By Shari from San Dimas, CA United States
A very classy little set. I bought two of these as gifts that have not yet been given - but I know they will be treasured. Beautiful colors.
Charming Nativity Set
Nov 22, 2021 | Posted By Carolyn Morgan from san antonio, TX United States
If you collect nativities, this is one you should add to your collection. The colors make it so special.
Customer Service let me down
Jan 6, 2021 | Posted By Derek McAleer from Macon, GA United States
I ordered the item on Dec. 8. Website said it was in stock. No mention of any shipping delays, stock issues, or any problems on the website. Immediately got an email confirming the order. Then on Dec. 16 (8 days later in a critical shopping season), I got a generic email listing all the problems they were having fulfilling orders -- but generic, nothing specifically telling me about my order. Order finally arrived Jan 4. Sad customer service in this day and age.
We're sorry that this was a bad experience. We can honestly say we did our best to communicate on our website and via email, but had a very difficult time keeping up in December.
Beautiful!
Nov 19, 2020 | Posted By Paula Beard from Culpeper, VA United States
I love this little Nativity set. It is beautifully made and looks lovely in my dining room. Packaging was secure and shipping was speedy.
Perfect!
Oct 6, 2020 | Posted By Madelyn Mathias from Stuart, FL United States
I absolutely love this sweet little Nativity set! Perfect in every detail! Thank you!
Lovely!!!
Sep 27, 2020 | Posted By Madelyn Mathias from Stuart, FL United States
I received this beautiful Nativity set the other day and I LOVE it! God bless you and the wonderful talent God has given you!
Precious Nativity
May 21, 2020 | Posted By Karen L Zfaty from Irvine, CA United States
This is such a sweet nativity. The colors are exquisite and the llamas adorable. I have a collection of nativities - and this is one of my very favorites.. I love it.
Lovely small manger set!
Oct 29, 2019 | Posted By Lori Wilbert from CREST HILL, IL United States
Well made with vivid colors! Perfect gift for that young grandchild and/or nephew, niece. I plan on giving this to my new grand nephew for his first Christmas. A truly special manger set.
I love the colors!
Mar 29, 2019 | Posted By Donna Coakley from Joppa, MD United States
I collect nativity sets from all over the world and I love how the unusual color scheme and the animals make this set unique.
Beautiful
Jan 14, 2019 | Posted By Cheryl Thomas from Roswell, NM United States
I really like my nativity set. It is beautifully done and just the perfect size for gift giving and putting out on a shelf. I like to keep out year round. Thank you very much.
Delightful
Dec 26, 2018 | Posted By Pamela Peterson from South Bend, IN United States
This small set is very well done and I love the aqua and teal colors (I guess these are the right color terms!) are colorful yet not overwhelming. Love the lamas in place of sheep or other. Especially like that they're from Peru as we sponsor a child from there through a Christian outreach. Makes me feel connected.
Teal Nativity
Dec 13, 2018 | Posted By Deborah A. Harrington from Arnold, MD United States
Just as described. Very unique and lovely.
Beautiful craftsmanship
Dec 13, 2018 | Posted By Angela Mountain from Ambler, PA United States
As always, I am delighted with a nativity purchased from SERRV. I received my first one, from Mexico, as a gift about 25 years ago, and have collected several others from a variety of different countries in the years since. They are lovely. This one, from Peru, is very sweet. The colors are beautiful, and I enjoy the expressions on all of the faces ... even the faces of the llamas.
It's Perfect!
Nov 27, 2017 | Posted By Reem from Honolulu, HI United States
I'm so picky about nativities, but this one was so perfect. The craftsmanship is beautiful- so delicate and detailed. The color is gorgeous- nice enough to keep up all year too. It's elegance and folk art combined. Highly recommended.
Pretty!
Nov 9, 2017 | Posted By Susanna from Houston, TX United States
Pretty set! I love the 'cute' faces. Not heavy and nice height