View Product Reviews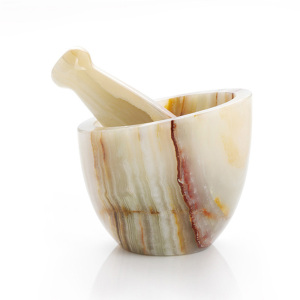 mortar and pestle
Jan 29, 2023 | Posted By anneke Theadora wegman from LAKE LEELANAU, MI United States
the item is beautiful and sturdy and holds up to my vigorous pounding I love the connection I feel with the person. who made it.
Great Pill Crusher
Aug 23, 2022 | Posted By Corinne Patel from Parma Heights, OH United States
This mortar and pestle is a great pill crusher that truly outlasts the plastic pill crushers of today. I definitely recommend it for crushing pills and spices.
Birthday Gift
May 25, 2021 | Posted By Nan from Albuquerque, NM United States
I bought this for my daughter for her birthday. She opened it while we were "Zooming" and was agog - loved it, said it was heavy, and beautiful.
a work of art.
Mar 6, 2021 | Posted By Danielle from Madison, WI United States
it is a good sized piece, and well-designed; so easy to pour out the crushed food without spilling. And it's beautiful!
Polished interior makes it very hard to use
Jun 12, 2020 | Posted By Claire from Berkeley, CA United States
Very beautiful, pretty much completely unusable for me, the interior is super-smooth and everything just slides around without being easily crushable. I will be reverting to my sadly uglier but more functional set.
Beautiful!
Nov 12, 2018 | Posted By Chris W. from Kinderhook, NY United States
I have a wooden mortar and pestle that has seen better days. I decided to upgrade to this onyx mortar and pestle from SERRV. What an upgrade! It is heavy and absolutely beautiful. I keep it out at all times because aside from having a purpose, it is too lovely to not display. I love this piece and highly recommend.