View Product Reviews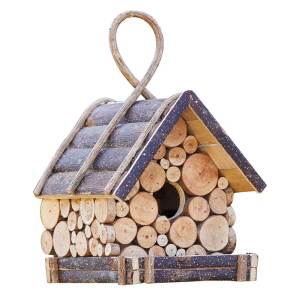 Holding up very well
Apr 24, 2023 | Posted By Susan Conroy from Lunenburg , MA United States
Have had this a few years; very sturdy & holding up better than some of the other houses bought from this site.
Roof looks purple on my computer screen. It's all wood resembling a log cabin.
Mar 13, 2023 | Posted By Martha from Glenmoore, PA United States
It's pleasant. I hope the birds accept it, because they seem to prefer no daylight in their boxes, and this has some small holes. We're going to give it a try.
Thank you for your feedback! We will try to adjust this image color.
Bird house
Jan 6, 2021 | Posted By Barbara Drew from Newtown , PA United States
Love the style and quality of craftsmanship
A Lovely Natural House that Will Offer Protection for a Bird Family
Nov 15, 2020 | Posted By Claire WithLove from Germantown, MD United States
The bird house is just as lovely in person and a nice size. It has a little perch/fence around the bottom for someone to land on and then hop in the door. You can put seed in the area. The left and right sides are more air tight/solid and the back wall has small openings near the roof.. There are small openings between the roof slates. Overall, I think the birds will be much warmer and less wet than a nest in a tree while the openings will allow some air flow to prevent the house from getting too hot in the summer. It has a nice protected look inside.. The floor of the bird house has wider gaps which is good to allow droppings through. This will be a Christmas present for my husband who likes to watch the birds while he works, so we have not used it yet. It looks like a well-made lovely house, and I look forward to seeing who will be nesting in it in the Spring.
Perfect
Oct 16, 2020 | Posted By Lana Wells from Green Valley , AZ United States
I have 20 birdhouses hanging in my huge Palo Verde tree. This is by far the most beautiful authentic house my birds will have.
Love This House!
Jun 4, 2020 | Posted By Janice from ELLICOTT CITY, MD United States
Love this bird house! I put it outside and in no time at all a bird moved in and appears to be very happy with the accommodations!
Home Sweet Home
Jun 2, 2020 | Posted By Tina Gresham-Gomez from Norwood , NJ United States
Attractive without being garish like so many birdhouses today. I put it on an inside branch of our cedar tree for better bird and birdhouse protection.
Love This!
Mar 16, 2018 | Posted By Janet from Cortez, CO United States
This bird house homestead looks very cool. I love it. It is not waterproof, but not many bird homes are. I will put a little birdseed in the front tray to invite them to its' Open House.