View Product Reviews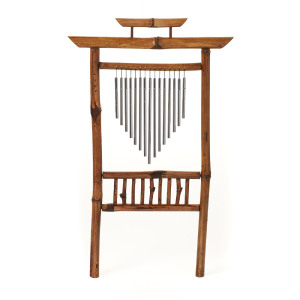 Pagoda Garden Chime
Jul 15, 2023 | Posted By Sharon from Lisle, IL United States
Well made. Lovely in the garden. Adds charm and japanese influence. Nice sounds. Metal stakes keep wood off the ground so rotting is likely to be at a minimum. Adds a great visual in any garden. I bought one and then bought one as a gift. Love it!!! Calming in this crazy world.
the perfect touch
Jun 20, 2023 | Posted By Jeanette from Stone Mountain, GA United States
this Pagoda Garden Chime brings to the garden a delicacy - the chime sound is delicate and inviting - the perfect accent in the Hosta Garden
Pagoda Garden Chime
Jun 15, 2023 | Posted By Sharon Braue from Lisle, IL United States
The Pogoda Garden Chime has a lovely tinkling sound. The bamboo seems well made. I ordered this item and it came within a few days - very prompt service and it was wrapped well and not damaged during shipping. The chime will make a great addition to my garden by a bird bath. It will act as an accent. Lovely. Fun. Inspiring. Nice calming sound.
Outstanding
May 28, 2023 | Posted By Paul F Kaehler Jr from Catonsville, MD United States
Very nice windchime highly recommend for any style garden.
Beautifully made
Mar 30, 2023 | Posted By Karen MacMurdo from MINNEAPOLIS, MN United States
Exactly as described. Highly recommend. Can't wait for the ground to thaw so I can put it in my yard.
Pagoda Garden Chime
Apr 17, 2022 | Posted By Susan C from EL CAJON, CA United States
Simple elegance. Beautifully crafted.
Bamboo Chimes
Apr 8, 2022 | Posted By N. Van Metre from Colorado Springs, CO United States
I love this item. The chimes sound so peaceful.
Pagoda Garden Chime disappoints
Apr 1, 2022 | Posted By sherrill blazer from cary, NC United States
I loved the looks of this and ordered but just a few days out, I wished that I had bought a different one. I think that this is too flimsy for outdoors and have not heard it chime yet. Also, one of the chimes has fallen off--likely due to a flimsy cord holding each chime. However, I loved all of the other items that I have ordered from your catalogue and am thinking right now of the quilled Easter eggs. Many have been given as gifts and the recipients love the unusual crafting.
Thank you for letting us know so we could make things right. This is highly unusual for this popular item that we've sold for years. We're glad the quilled eggs were a hit!
Yard Beauty
Jul 27, 2021 | Posted By Ilene Kummer from Lakeland, FL United States
Very well made. Nice addition to the yard
Love these chimes
Jun 22, 2021 | Posted By Paula M Gates from Spencer, MA United States
My daughter has a garden and just loved this birthday gift!
Pagoda Garden Chime
Jun 16, 2021 | Posted By Sharon from Sun Prairie, WI United States
I have been looking for something like this for my Japanese garden for a long time. So happy I found it. The sound is very beautiful.
nice chime
Mar 16, 2021 | Posted By Julie Moylan from Troy, MI United States
This chime has such a lovely sound. I don't have it in the ground yet, so just run my fingers through the chimes. Even our cats like it!! The design is pretty, too. Doesn't disappoint in any way. Thank you, very pleased.
Garden Charm!
Nov 1, 2020 | Posted By Gail O'Dell from Juneau, AK United States
I bought 4 of these musical pagodas...for Christmas gifts to friends that have been expanding and enhancing their garden spaces. These pagodas are perfect! The quality is very nice, it's a solid and finished product. There are quite a few chimes- it is more melodic than regular wind chimes. I guess I would say these exceeded my expectations. But SERRV items are usually of higher quality. I wish I'd purchased one to keep!
Beautiful
Apr 22, 2020 | Posted By Lorrlei from Royal Oak, MI United States
It's beautiful and I like the sound
Bamboo chime
Apr 21, 2020 | Posted By Judy C from Modesto , CA United States
Beautiful light sound Perfect in every way.