View Product Reviews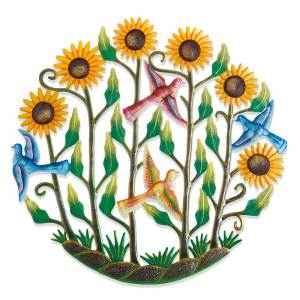 Wonderful!
Jun 25, 2023 | Posted By Laura Derr from Easthampton, MA United States
I bought this together with the rooster, which also has sunflowers, as I have two structures in my yard that both needed dressing up. Wow! The colors are super vibrant, the painting has a nice subtlety and depth. This beautiful piece of art has greatly enhanced the view out my kitchen window.
Love this in my yard!
May 9, 2023 | Posted By Renee Nunamaker from Pullman, WA United States
The painting is carefully done and the metal work is very nice. The color is perhaps a little duller than the picture on my monitor screen but it makes no difference, I still love this!
Beautiful wall art
Jul 27, 2022 | Posted By Karri Cheney from Las Cruces, NM United States
The Sunflower Garden Wall art is a beautiful piece, well crafted with vibrant colors. It looks awesome on my porch wall.
Sunflowers
Apr 17, 2022 | Posted By Diane from Longmont , CO United States
Wonderful sunflower sign. Cheerful!
Beautiful
Sep 13, 2021 | Posted By arlene coker from Homosassa, FL United States
I put this up on my entryway. It looks beautiful and the workmanship is excellent. It sure brightens my front porch.
Fantastic Backyard Decor
Jul 31, 2021 | Posted By Cphil from BROOKHAVEN, GA United States
We recently had our backyard fence stained and wanted something decorative to give the yard some pizzazz. This sunflower piece is just the thing! Makes me smile every time I take my dogs out and see it mounted on the fence. Plan to add other pieces from the artist to the fence with time. Sturdy and beautiful!
Beautiful metal art
Jun 6, 2021 | Posted By Wanda Kirkpatrick from Mobile, AL United States
Beautiful metal art with quality craftmanship and vibrant colors. I couldn't be more pleased!
Beautiful
May 21, 2020 | Posted By AF from Winfield, KS United States
This is not the first outdoor art piece that we have purchased from Serrv. They are all very bright, cheery and well made. I'm sure this won't be the last one!
This will brighten your life!
Aug 22, 2019 | Posted By Sandra J. Brown from Baton Rouge, LA United States
What a wonderful addition to your garden or courtyard walls! Even if your flowers aren't blooming, this plaque will provide color and joy to your yard. The quality is first rate and it is truly very pretty - worth every penny!
This will brighten your life!
Jul 19, 2019 | Posted By Sandy Brown from Baton Rouge, LA United States
I just love this piece! It brightens up any space that you hang it in. The quality is amazing and the artistry simply dazzles . If you are thinking about buying it, stop thinking and just do it! You will not be disappointed!
Sunflower Garden Wall Art
Jun 22, 2019 | Posted By Diana Curtis from Casa Grande, AZ United States
This wall decoration is absolutely stunning and looks exactly as presented in the catalog. It is very well made!
Beautiful
Mar 7, 2018 | Posted By Carmen from Westport, CT United States
I absolutely love this wall hanging. I have another one from the same artists. Everything I have ordered from you is terrific.