View Product Reviews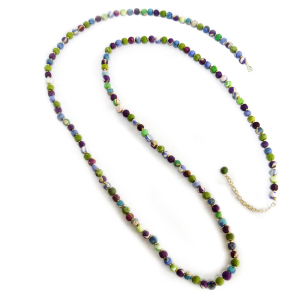 Long Cool Tones Sari Necklace
Jul 30, 2021 | Posted By JLH from Unionville, CT United States
This necklace is very colorful and makes a great gift.
Sari necklace
Jan 30, 2020 | Posted By Liz Katzmann from Brick, NJ United States
Love the color combination
Jan 12, 2020 | Posted By Janet F. Dyson from Montgomery, LA United States
This was a gift, but the recipient seemed quite pleased with it. I thought the combination of colors was quite pleasing, and workmanship appeared excellent
Beautiful necklace
Apr 16, 2019 | Posted By ellen goodman from Providence, RI United States
i got this necklace as a birthday present for a friend whose birthday has not yet come up. I love it and would consider buying more like it or more by the same artisan.
Sari Necklace
Apr 1, 2018 | Posted By Susan from Marathon, FL United States
The Sari Necklace is quite pretty and will be the perfect for several of my outfits. The colors are outstanding and I love the length. Your artisans have done a wonderful job with this necklace. Thank you!
Amazing!!
Feb 21, 2018 | Posted By Janie1108 from Sturgis, MI United States
This necklace is so beautiful! I love wearing it!