View Product Reviews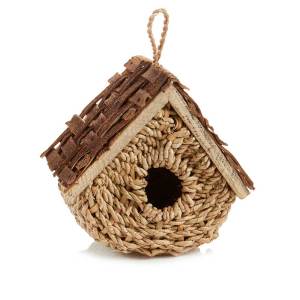 Great Quality
Dec 4, 2023 | Posted By Barbara from San Diego, CA United States
This is larger than I thought but with birdhouses, I don't care what size they are, looking at quality and color and design. This looks wonderful hanging and on sale, at that price, seriously don't wait. I don't know if the birds use many of what I have out there but it does not matter, they are all great to look at. Don't let this one get away.
Basket birdhouse
Dec 22, 2021 | Posted By Mardi F from San Diego, CA United States
I ordered a few of these to give as Christmas gifts. Recipients love them, and when my husband saw them, he commented about how nice they were. It made me wish I'd ordered one extra to put under the tree for him.
Great gift
Dec 16, 2021 | Posted By Pamela from Fisherville, KY United States
This is well constructed, interesting and fun. Have ordered this birdhouse several time.
Nice!
Jan 24, 2020 | Posted By Mary Snyder from Jefferson City, TN United States
I'm collecting Fair Trade Birdhouses and this is the latest in my collection. It's rustic, unpainted, and made very well of all natural items. I can't wait to see who nests it this!
Fantastic Gift
Dec 16, 2019 | Posted By Mary Tibiatowski from La Mesa, CA United States
I've ordered several of these as gifts and everyone is always thrilled. Everyone loves to have birds around their home.
Annual Favorite
Nov 23, 2019 | Posted By Mary Tibiatowski from La Mesa, CA United States
I frequently give these adorable birdhouses as gifts. They are delightful and everyone love them.
Happy customer
Mar 25, 2019 | Posted By Rosalie from Milwaukie , OR United States
It is so cute and adds charm to the yard. I love mine and ordered another for a friend. I was disappointed with the construction of the bird house I bought for a gift and this company made everything right. I received the new one today and it's perfect! Thank you! I highly recommend!
Disappointed
Mar 5, 2019 | Posted By Rosalie from Milwaukie , OR United States
I received a basket birdhouse as a gift and it was just as pictured. I loved it and decided to buy one for a friend as a birthday gift. To my surprise the second basket birdhouse was not the same high quality as the the first. The basket weave had a hole above the door and the roof was very skimpy. The roof only had half the material loosely woven on it with lots of the underlying wood showing. I'm embarrassed to give it as a gift. I can only assume they were created by different artisans.
That is concerning and this second one shouldn't have passed quality checks. We will contact you directly to resolve this.